Tools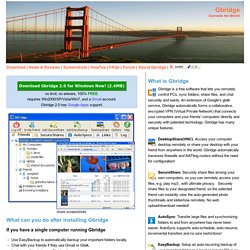 Gbridge Connects the World! What is Gbridge Gbridge is a free software that lets you remotely control PCs, sync folders, share files, and chat securely and easily. An extension of Google's gtalk service, Gbridge automatically forms a collaborative, encrypted VPN (Virtual Private Network) that connects your computers and your friends' computers directly and securely with patented technology. Gbridge has many unique features.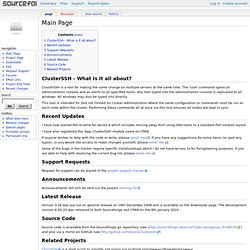 clusterssh
From clusterssh ClusterSSH - What is it all about? ClusterSSH is a tool for making the same change on multiple servers at the same time. The 'cssh' command opens an administration console and an xterm to all specified hosts. Any text typed into the administration console is replicated to all windows. All windows may also be typed into directly.
dapper
The PCRE library is a set of functions that implement regular expression pattern matching using the same syntax and semantics as Perl 5. PCRE has its own native API, as well as a set of wrapper functions that correspond to the POSIX regular expression API. The PCRE library is free, even for building proprietary software. PCRE was originally written for the Exim MTA, but is now used by many high-profile open source projects, including Apache, PHP, KDE, Postfix, Analog, and Nmap. PCRE has also found its way into some well known commercial products, like Apple Safari.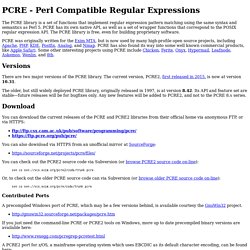 PCRE - Perl Compatible Regular Expressions
ElasticSearch - Open Source, Distributed, RESTful Search Engine
monitor your cluster's heartbeat Elasticsearch Marvel picks up every operating metric Elasticsearch exposes through its APIs and visualizes it instantly. It's free for development use and a product license is required when running in production. With Marvel you get complete transparency into the state of your Elasticsearch deployment.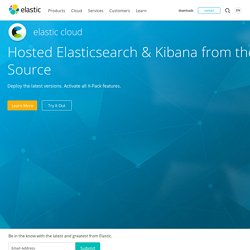 I like to practice my craft. I enjoy participating in Code Retreats. I enjoy facilitating Code Retreats. I like working on kata and koans. And a lot of what I talk about includes references to these practices.
Doc On Dev: Sharpening the Saw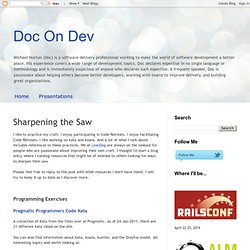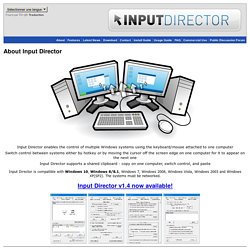 Input Director is a Windows application that lets you control multiple Windows systems using the keyboard/mouse attached to one computer. It is designed for folks who have two (or more) computers next to each other and find themselves regularly switching from one system to the other. With Input Director, you can share a single keyboard/mouse across a set of systems.