Pollutions marines
Pollutions marines / microplastiques. Plastic to Oil Fantastic. Plastic to oil machine in action | Drift Surfing. A plastic to oil demonstration took place on February 11th at the Orella Stewardship Institute.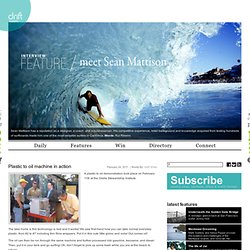 The take home is this technology is real and it works! We saw first-hand how you can take normal everyday plastic, from #2 to #7 including thin films wrappers. Put it in this cute little gizmo and voila! Out comes oil! ENergy Overview - Fullscreen. Pacific trash vortex showing drift of ocean pollution. European Commission - Environment - Water - Marine. Ec.europa.eu/environment/news/efe/pdf/FR-EFE42-110328.pdf. Jackson Browne: "If I Could Be Anywhere" Www.plasticseurope.org/documents/document/20110323115008-2011_03_23_joint_declaration.pdf. Global Plastics and Plastic Product Producers Take Action on Marine Litter.
As part of their overarching contribution to providing sustainable solutions, representatives of plastics organizations from around the globe have released a "Declaration for Solutions on Marine Litter."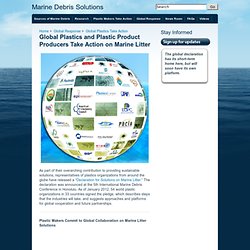 The declaration was announced at the 5th International Marine Debris Conference in Honolulu. As of January 2012, 54 world plastic organizations in 33 countries signed the pledge, which describes steps that the industries will take, and suggests approaches and platforms for global cooperation and future partnerships. Plastic Makers Commit to Global Collaboration on Marine Litter Solutions. The recycled port? An alternative to dumping at sea. In search of a sustainable alternative to dumping at sea or disposal on land, a Scandinavian consortium blended contaminated sediment with a special mix of binders to produce a safe construction material for use in ports and harbours.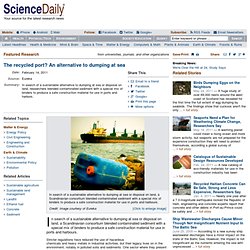 Stricter regulations have reduced the use of hazardous chemicals and heavy metals in industrial activities, but their legacy lives on in the environment, notably in polluted soils and sediments. One sector where they present a particular headache is in the shipping and port industry, where dredging routinely turns up sediment contaminated with the likes of carcinogenic PCBs, TBT, cadmium, lead and mercury. Port owners are caught between constraints on dumping sediment at sea, the cheap but polluting option, and removing it to be treated for landfill, an expensive alternative. Marine Research Foundation - Research - Pelagic Plastic.
Plastic in the ocean may be one of the most alarming of today's environmental stories.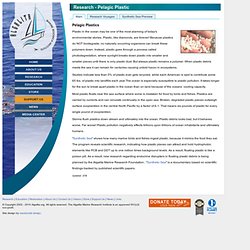 Plastic, like diamonds, are forever! Because plastics do NOT biodegrade, no naturally occurring organisms can break these polymers down. Instead, plastic goes through a process called photodegredation, where sunlight breaks down plastic into smaller and smaller pieces until there is only plastic dust. But always plastic remains a polymer. When plastic debris meets the sea it can remain for centuries causing untold havoc in ecosystems.
---