Photographes
Surfer Picture – Adventure Photo. Playing with the moon. Photographes américains. Simon Stock. Navid Baraty.
Photo Bretagne
Abandoned bunkers – Jonathan Andrew « Whitezine | inspire Create and Share. Amazing serie of photography by an english photographer living in Amsterdam named Jonathan Andrew.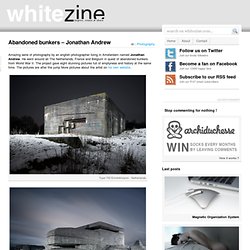 He went around all The Netherlands, France and Belgium in quest of abandoned bunkers from World War II. The project gave eight stunning pictures full of emptyness and history at the same time. The pictures are after the jump More pictures about the artist on his own website. Type 703 Emminkhuizen - Netherlands Type 583a Heerenduin - The Netherlands.
---