Pearltrees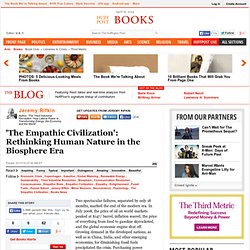 Jeremy Rifkin: 'The Empathic Civilization': Rethinking Human Nature in the Biosphere Era
Two spectacular failures, separated by only 18 months, marked the end of the modern era. In July 2008, the price of oil on world markets peaked at $147/ barrel, inflation soared, the price of everything from food to gasoline skyrocketed, and the global economic engine shut off. Growing demand in the developed nations, as well as in China, India, and other emerging economies, for diminishing fossil fuels precipitated the crisis. Purchasing power plummeted and the global economy collapsed. That was the earthquake that tore asunder the industrial age built on and propelled by fossil fuels.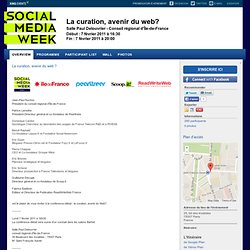 Jean-Paul Huchon Président du conseil régional d'Île-de-France Patrice Lamothe Président-Directeur général et co-fondateur de Pearltrees Dominique Cardon Sociologue Chercheur au laboratoire des usages de France Telecom R&D et à l'EHESS Benoit Raphaël Co-fondateur Lepost.fr et Fondateur Social Newsroom Eric Dupin Blogueur Presse-Citron.net et Fondateur Fuzz.fr et LeFocus.fr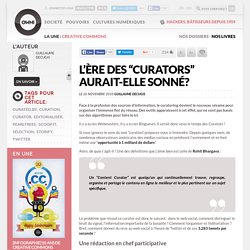 Face à la profusion des sources d'information, le curatoring devient le nouveau sésame pour organiser l'immense flot du réseau. Des outils apparaissent à cet effet, qui ne sont pas basés sur des algorithmes pour faire le tri. Il y a eu les Webmasters.
The time it takes to follow and go through multiple web sites and blogs takes tangible time, and since most sources publish or give coverage to more than one topic, one gets to browse and scan through lots of useless content just for the sake of finding what is relevant to his specific interest. Even in the case of power-users utilizing RSS feed readers, aggregators and filters, the amount of junk we have to sift through daily is nothing but impressive, so much so, that those who have enough time and skills to pick the gems from that ocean of tweets, social media posts and blog posts, enjoy a fast increasing reputation and visibility online. Photo credit: dsharpie and franckreporter mashed up by Robin Good "What we need to get much better at is scaling that system so you don't have to pay attention to everything, but you don't miss the stuff you care about..."Ev Williams at a Girls in Tech event at Kicklabsvia Stowe Boyd's blog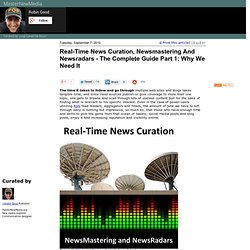 Real-Time News Curation, Newsmastering And Newsradars - The Complete Guide Part 1: Why We Need It