Jeremy Jackson
Painting pictures of changing marine environments, particularly coral reefs and the Isthmus of Panama, Jackson's research captures the extreme environmental decline of the oceans that has accelerated in the past 200 years. Jeremy Jackson has pioneered work dealing with historical declines of marine ecosystems and shifting baselines of scientists studying them. Among his most important work was leading an interdisciplinary working group, composed of ecologists, anthropologists, archeologists and historians, to reconstruct marine ecosystem dynamics for the last several hundred years.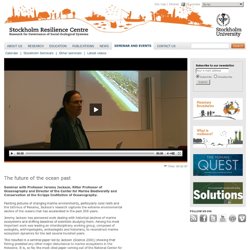 The future of the ocean past
Jeremy Jackson is a marine ecologist, paleontologist and a professor at the Scripps Institution of Oceanography in La Jolla, California as well as a Senior Scientist Emeritus at the Smithsonian Tropical Research Institute in the Republic of Panama.[1] He has published over 150 scientific publications – 18 of which are in the journal Science – and has written seven books. Jeremy Bradford Cook Jackson was born in 1942 in Louisville, Kentucky but had moved to New York City by the age of one.
Jeremy Jackson (scientist)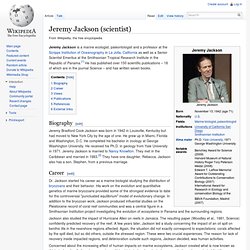 :: SCRIPPS OCEANOGRAPHY NEWS : : Jeremy Jackson Honored by Harvard Museum of Natural History ::
Jeremy Jackson, renowned marine ecologist with Scripps Institution of Oceanography at UC San Diego, has been selected to receive the 11th annual Roger Tory Peterson Medal presented by the Harvard Museum of Natural History. Jackson will deliver the Roger Tory Peterson Memorial Lecture on Sunday, April 6, 2008 at 3 p.m. in the Harvard University Science Center. In his lecture, entitled "Brave New Ocean," Jackson will discuss the future of the world's oceans. Decades of over-fishing, habitat destruction and ocean warming have left our marine ecosystems and biodiversity in a state of crisis. But with successful management and conservation strategies, Jackson sees hope for renewing the health and sustainability of our oceans. The Harvard Museum of Natural History inaugurated the Roger Tory Peterson Memorial Lecture in 1997 to keep alive the memory of the pioneering naturalist and author of the legendary Peterson Field Guide to Birds.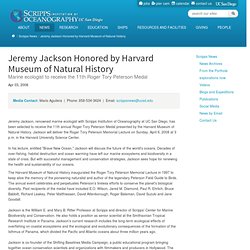 Human activities are cumulatively driving the health of the world's oceans down a rapid spiral, and only prompt and wholesale changes will slow or perhaps ultimately reverse the catastrophic problems they are facing. Such is the prognosis of Jeremy Jackson, a professor of oceanography at Scripps Institution of Oceanography at UC San Diego, in a bold new assessment of the oceans and their ecological health. Publishing his study in the online early edition of the Proceedings of the National Academy of Sciences (PNAS), Jackson believes that human impacts are laying the groundwork for mass extinctions in the oceans on par with vast ecological upheavals of the past. He cites the synergistic effects of habitat destruction, overfishing, ocean warming, increased acidification and massive nutrient runoff as culprits in a grand transformation of once complex ocean ecosystems.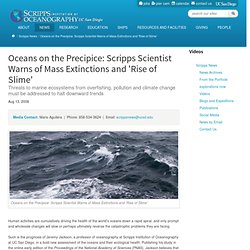 :: SCRIPPS OCEANOGRAPHY NEWS : : Oceans on the Precipice: Scripps Scientist Warns of Mass Extinctions and 'Rise of Slime' ::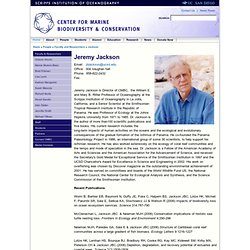 Jeremy -Jackson :: CENTER FOR MARINE BIODIVERSITY AND CONSERVATION : FACULTY AND RESEARCHERS
Email: jbjackson@ucsd.edu Office: 304 Vaughan hall Phone: 858-822-2432 Fax:
Brave New Ocean - Lecture by Dr. Jeremy Jackson, UCLA