Herman Daly - Ecological Economics
Three More Growth Fallacies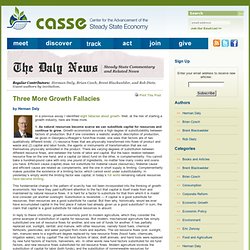 by Herman Daly In a previous essay I identified eight fallacies about growth . Well, at the risk of starting a growth industry, here are three more. 1. As natural resources become scarce we can substitute capital for resources and continue to grow.
Eight Fallacies about Growth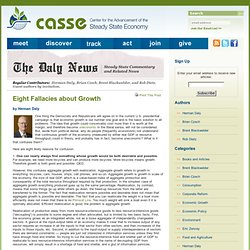 by Herman Daly One thing the Democrats and Republicans will agree on in the current U.S. presidential campaign is that economic growth is our number one goal and is the basic solution to all problems. The idea that growth could conceivably cost more than it is worth at the margin, and therefore become uneconomic in the literal sense, will not be considered. But, aside from political denial, why do people (frequently economists) not understand that continuous growth of the economy (measured by either real GDP or resource throughput) could in theory, and probably has in fact, become uneconomic?
wp-content/uploads/2009/12/Daly_SciAmerican_FullWorldEconomics.pdf
CASSE (steadystateecon) sur Twitter
by Herman Daly In yesteryear's empty world capital was the limiting factor in economic growth. But we now live in a full world. Consider: What limits the annual fish catch — fishing boats (capital) or remaining fish in the sea (natural resources)?
What Is the Limiting Factor?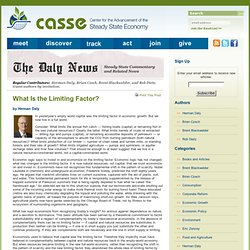 "Le vrai risque pour l'avenir : la surconsommation"
Nouvelles: Comment concilier l'économie et la biosphère
Ecosystem and Economy
From Herman Daly's Beyond Growth: The Economics of Sustainable Development (1996): Once you draw the boundary of the environment around the economy, you have said that the economy cannot expand forever (p.7). Since the ecosystem remains constant in scale as the economy grows, it is inevitable that over time the economy becomes larger relative to the containing ecosystem.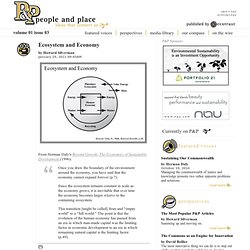 The Social Contract - Uneconomic Growth In a Full World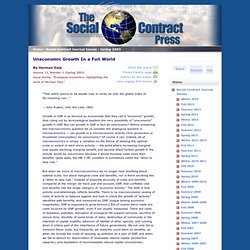 By Herman Daly Volume 13, Number 3 (Spring 2003) Issue theme: "Ecological economics: highlighting the work of Herman Daly" "That which seems to be wealth may in verity be only the gilded index of far-reaching ruin..." -- John Ruskin, Unto this Last, 1862. Growth in GNP is so favored by economists that they call it "economic" growth, thus ruling out by terminological baptism the very possibility of "uneconomic" growth in GNP. But can growth in GNP in fact be uneconomic? Before answering this macroeconomic question let us consider the analogous question in microeconomics -- can growth in a microeconomic activity (firm production or household consumption) be uneconomic?
sef.umd.edu/files/ScientificAmerican_Daly_05.pdf