Groupe 3 : Loisirs nautiques
There's something compelling about the notion of a floating work space, which is why we covered WaterSpace's H2Office earlier this year. Now, given that product's appeal, it's not entirely surprising to see the company working on a Floating Studio Flat as well. Currently in the design stage, WaterSpace's Floating Studio Flat will be a one-bedroom studio apartment that's intended for use primarily in inland waterways. With a wet room, kitchen, bedroom and an upper sun/drinks deck, the Floating Studio Flat will feature all the amenities of home in a variety of floor plans.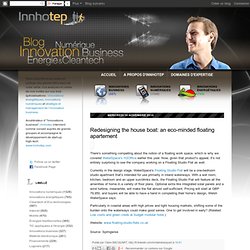 Redesigning the house boat: an eco-minded floating apartement
Recherche financement - Anne-Claire Poirson | consultante développement durable, ACO2 consulting
aco2 created by aco2consulting based on Market Mentor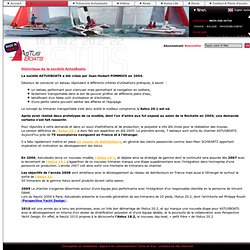 Constructeur - Astusboat
Historique de la société AstusBoats La société ASTUSBOATS a été créée par Jean-Hubert POMMOIS en 2004. Désireux de concevoir un bateau répondant à différents critères d'utilisations pratiques, à savoir : un bateau performant pour s'amuser mais permettant la navigation en solitaire, facilement transportable dans le but de pouvoir profiter de différents plans d'eau, bénéficiant d'un faible coût d'utilisation et d'entretien, d'une petite cabine pouvant abriter des affaires et l'équipage. Le concept du trimaran transportable s'est donc avéré le meilleur compromis. L'Astus 20.1 est né.
Perspective Yacht Design, cabinet d'architecture navale
Designer - AlexAndCo
www.bretagne.cci.fr/files/crci_bretagne/innover/Nouveaux-supports-nautiques-arist.pdf
www.bretagne.cci.fr/files/crci_bretagne/innover/Nouveaux-supports-nautiques-GMV.pdf