Diffusion de l'innovation
Derek Sivers: How to start a movement. Merkapt, Consultant at Merkapt | SlideShare. La diffusion d'une innovation. D'après les théories relatives à l'innovation, une innovation se diffuse dans la société en suivant un processus qui touche différentes catégorie de consommateurs, des plus enthousiastes jusqu'aux plus réticents face à la technologie.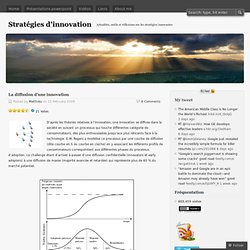 E.M. Rogers a modélisé ce processus par une courbe de diffusion (dite courbe en S ou courbe en cloche) en y associant les différents profils de consommateurs correspondant aux différentes phases du processus d'adoption. A.parsons.edu/~limam240/thesis/documents/Diffusion_of_Innovations.pdf. Business Innovation Speaker, Author and Consultant: Stephen Shapiro. Derek Sivers: How to start a movement.
Enabling change - How to be angaging ? E ROGERS - Diffusion of innovations - 1995. Influences sociales et diffusion de l'innovation.
---