Andrew Skurka
Andrew Skurka | Adventurer, Speaker, Guide, and Writer
Andrew Skurka (andrewskurka) on Twitter
Andrew Skurka - National Geographic Adventure Magazine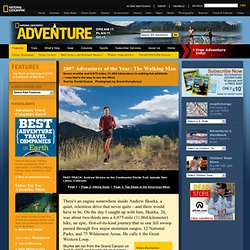 Skurka set out from the Grand Canyon on April 9, 2007, and quickly hit an average pace of around 35 miles (56 kilometers) a day. Over the next two weeks or so, he walked 675 miles (1,086 kilometers) west across the Sonoran and Mojave Deserts.
Il existe des extraterrestre, mais le sont-ils vraiment.
Andrew Skurka, le roi de la longue distance! (Page 2) / Du vécu, que du vécu !