Andrew Skurka
Andrew Skurka | Adventurer, Speaker, Guide, and Writer. Andrew Skurka (andrewskurka) Andrew Skurka - National Geographic Adventure Magazine. Skurka set out from the Grand Canyon on April 9, 2007, and quickly hit an average pace of around 35 miles (56 kilometers) a day.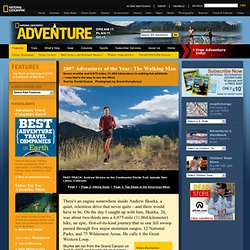 Over the next two weeks or so, he walked 675 miles (1,086 kilometers) west across the Sonoran and Mojave Deserts. Near Palm Springs he turned right onto the Pacific Crest Trail and walked north 2,415 miles (3,887 kilometers), blitzing through the early spring snowpack of the Sierra and past the looming volcanoes of the Cascade Range. Close to the Canadian border, he turned east onto the Pacific Northwest Trail and followed that for 675 miles (1,086 kilometers) until he hit the Continental Divide Trail in northern Montana. By the time I went looking for him in mid-September, he was in the middle of that leg: a 2,400-mile (3,862-kilometer) shot south along the spine of the Rockies, back toward the Grand Canyon. To make sense of this, you have to reread the figures I've just cited and resist the impulse to scan them like so many quantifiers of high achievement.
Andrew Skurka, le roi de la longue distance! (Page 2) / Du vécu, que du vécu ! Il existe des extraterrestre, mais le sont-ils vraiment.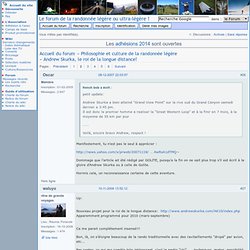 Celui qui s'en donne les moyens et le temps peut en être capable. Je pense qu'il prépare son mental et son physique depuis très longtemps, surement papa/maman était des traileurs ou des marathoniens...Bel exploit. Moi je me contente d'exploits simples.
---