Alain de Botton
Get flash to fully experience Pearltrees
Stylist's first sex survey revealed that 65% of you want more sex. Philosopher Alain de Botton explains what's getting in the way… It's rare to get through this life without feeling we are somehow a bit odd about sex – generally with a degree of secret agony, perhaps at the end of a relationship, or as we lie in bed frustrated next to our partner, unable to go to sleep. It's an area in which most of us have a painful impression, in our heart of hearts, that we are quite unusual. Despite being one of the most private activities, sex is surrounded by ideas about how normal people are meant to feel and deal with the matter.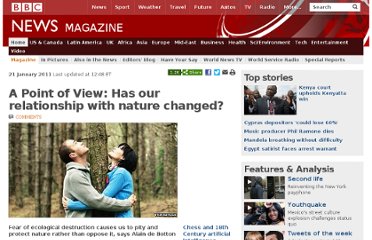 21 January 2011 Last updated at 12:48 ET Fear of ecological destruction causes us to pity and protect nature rather than oppose it, says Alain de Botton The environmental dangers that now face mankind put non-scientific philosophical types like me in an awkward situation. We have to acknowledge that we can have precisely nothing interesting to say on the two most important questions in the air right now, namely: "What is going to happen to the human race?"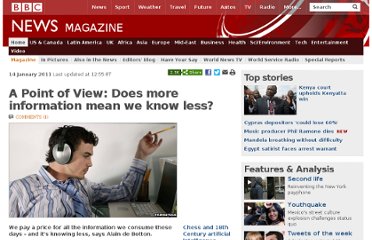 14 January 2011 Last updated at 12:55 ET We pay a price for all the information we consume these days - and it's knowing less, says Alain de Botton. One of the more embarrassing difficulties of our age is that most of us have quite lost the ability to concentrate, to sit still and do nothing other than focus on certain basic truths of the human condition.