Yoga
Yoga Breathing. By Arun Goel With the ever-increasing incidence of lifestyle diseases like cardio-vascular and nervous system disorders, the time has come for us to address this ourselves, fair and square WITHOUT external dependence.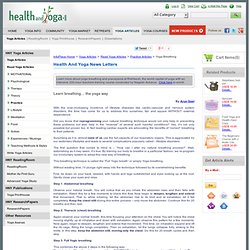 Did you know that reprogramming your natural breathing technique would not only help in preventing these problems but also help in the "reversal" of several such harmful conditions? Yes, it's not only possible but proven too. Ashtanga - Padangusthasan. 4 Yoga moves for a slimmer middle on Shine. Belly fat gets a bad rap, but there are all sorts of problem spots that can take up residence on your torso.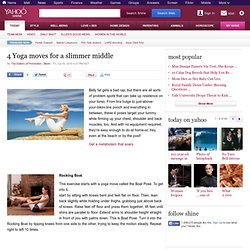 From bra bulge to just-above-your-bikini-line pooch and everything in between, these 4 poses target your tummy while firming up your chest, shoulder and back muscles, too. And with no equipment required, they're easy enough to do at home-or, hey, even at the beach or by the pool! Get a metabolism that soars. Mission - Surya Namaskar - Sun Salutation. Surya Namaskar or the Sun Salutation is a most complete series of postures.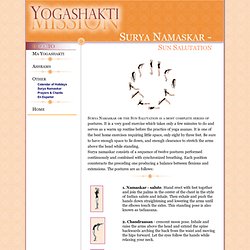 It is a very good exercise which takes only a few minutes to do and serves as a warm up routine before the practice of yoga asanas. It is one of the best home exercises requiring little space, only eight by three feet.
---