Mobile
Get flash to fully experience Pearltrees
Armed with fast, high-powered smartphones, a new class of consumers, 100 million strong and growing, is rerouting the path to purchase and redefining cultural norms in the US. Members of the "smartphone class" stand apart from other Americans in the way they shop, communicate, consume media—even how they use their spare time. Its members define themselves by their connectedness and their sense of empowerment through unfettered access to real-time information.
The nation has gone mobile. The number of wireless subscriptions in the U.S. has surpassed the nation's population, according to figures released yesterday by the trade group CTIA. The survey found subscriptions to cellphones and other mobile communication devices climbed to 327.6 million as of July, a 9 percent increase from midyear 2010.
For designers, Android is the elephant in the room when it comes to app design. As much as designers would like to think it's an iOS world in which all anyones cares about are iPhones, iPads and the App Store, nobody can ignore that Android currently has the majority of smartphone market share and that it is being used on everything from tablets to e-readers .
This either means that the username and password information in your wp-config.php file is incorrect or we can't contact the database server at 10.10.67.142 .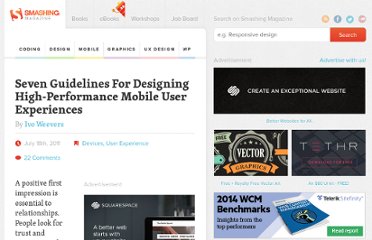 Consumers are spending more time on mobile apps than on the web for the first time, a new report claims. Flurry compared its mobile data to stats from comScore and Alexa, and found that in June, consumers spent 81 minutes per day using mobile apps, compared to 74 minutes of web surfing.
In many industries, prototyping is an effective way of modeling a system to test it and gather feedback from engineers, other designers, stakeholders and, most importantly, end users. Practitioners in the UX field are familiar with prototyping when designing physical devices, web , and mobile applications . UX designers can use Flash , HTML, or other robust programming languages to build prototypes that closely resemble the final product, allowing test participants to interact with the prototype more realistically to generate valuable feedback for designers.
This article originally appeared in issue 211 of .net magazine - the world's best-selling magazine for web designers and developers. Your first project in iPhone UI design normally comes about in one of two ways. Maybe your client has entrusted you with their iPhone app after completing a website for them.
Last week we posted a collection of printable wireframing templates which included some for iPhone and iPad app design.
This is part five of the week-long " Website Anatomy Class " series
The Spark of Genius Series highlights a unique feature of startups and is made possible by Microsoft BizSpark .
Mobile web apps are useful alternatives to native apps for mobile devices. These days, Android-based products and iOS devices like the iPhone and iPad all come packed with fantastic mobile browsers (Mobile Chrome and Mobile Safari respectively), and Opera fans can install their preferred browser, too.
Summary: Websites and mobile apps both frequently cram options into too-small parts of the screen, making items harder to understand.