Cooking Gluten Free
GFE Gluten Free Easily. English Muffins. Cheese Burger. Pasties are hand-held pies that are made from a round of pastry (alas – not usually gluten free), filled with an un-cooked filling (usually meat), folded over (like a turnover or empanada) and baked.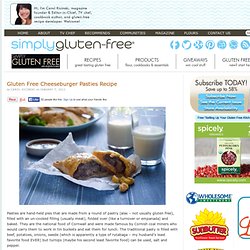 They are the national food of Cornwall and were made famous by Cornish coal miners who would carry them to work in tin buckets and eat them for lunch. The traditional pasty is filled with beef, potatoes, onions, swede (which is apparently a type of rutabaga – my husband's least favorite food EVER) but turnips (maybe his second least favorite food) can be used, salt and pepper. Since the probability of getting my husband to eat anything with a rutabaga or turnip in it is about as high as me being crowned the Queen of England, I decided to make a very American version – Cheeseburger Pasties.
Pancakes. Shepherd's Pie. Shepherd's Pie is a traditional English dish.
In Britain it is generally made with lamb or mutton; in this recipe I have made a simple ground beef shepherd's pie and added bacon for extra flavor. Shepard's pie is often referred to as "cottage pie," by the English; it is a casserole made of cooked meat and vegetables that is then topped with mashed potatoes and baked. I have made this dish into a Paleo casserole by using Mashed Cauliflower for the topping. This reduces the glycemic index of the dish and increases the nutritional content, since cauliflower is a super food.
I based my recipe for ground beef Shepherd's Pie, on this Shepherd's Pie recipe from functionalfoodie.com. Gluten-Free Recipes. Appetizers & Snacks 5 Minute Guacamole, Amazing Toasted Nuts, Apple Pupusas, BBQ Jalapeño Poppers, Dairy-Free Cheese Crisps, Creamy and Regular Tomatillo Salsa, Falafel, Dairy Free French Onion Dip [ More... ] Beverages & Desserts Blueberry and Blackberry Crumble Pie, Chocolate Rum Cookies, Chocolate Macadamia Nuts, Chocolate Sorbet, Chocolate Whipped Cream, Dairy Free Whipped Cream, Peanut Butter Cookies [ More... ] Bread & Pizza.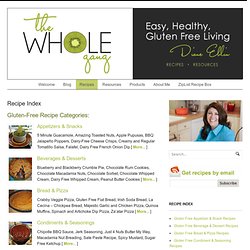 Recipes baking and cooking. Slow Food Uk. RECIPES for all. Spring Flower Lollipops Too nice. Happy first day of spring!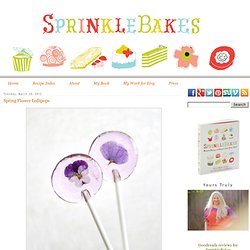 To celebrate I've made a special treat for you with colorful spring flowers. I've been enamored with edible flowers ever since making candied rose petals earlier this year. By doing a little research (that includes taste-testing) I've found that just because a flower is non-poisonous, doesn't mean it is also yummy. That's why I'm sharing my list of favorite edible flowers. I adore Biscuit !
---