Irrigation
Your Trusted Landscape Supplier and Irrigation Supplier For over 35 years, Hydro-Scape has striven to be the very best landscape and irrigation supply store in Southern California. Originally founded in 1975 by Robert J. Tiglio, Hydro-Scape has been recognized as the one stop source for the very best in high quality landscape and irrigation supplies. As a leading irrigation and landscape supplier, we have earned numerous achievement awards for our outstanding level of sales and service as we have shown our ongoing support of our local communities.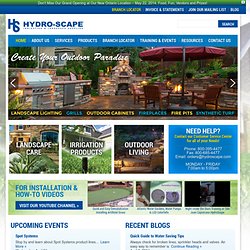 http://www.hydroscape.com/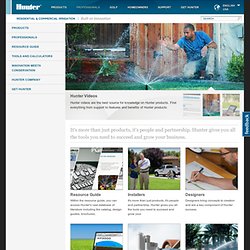 Within the resource guide, you can access Hunter's vast database of literature including the catalog, design guides, brochures, It's more than just products, it's people and partnership. Hunter gives you all the tools you need to succeed and grow your Designers bring concepts to creation and are a key component of Hunter success. Knowledge is power and Hunter gives you the power to succeed. Training.hunterindustries.com online product training any time.
Hunter Industries: Irrigation Designers
MP Rotator®
Rain Bird Residential and Commercial Landscape Irrigation Solutions for Professionals