Cloud and cooperation
UTF-8 Using Keeping the personal blogs An ability to create collaborative blogs Rating system of blogs, topic, comment, users Voting system for blogs, topics, comments, users Functional comments on Ajax'e with the navigation possibility Full-text search on a site using the Sphinx Ability to add topics to Favorites Easy management tags Collective internal mail Access Control System (ACS) for different network capabilities (a blog creating, a voting possibility, etc.) Ability to create a private website Invite system Topic-links Topic-quizes Blog administration Appointment of blog moderators Settings of email alerts Time limit on voting for topics and comments The capabilities of link screening from search engines LiveStreet supports the addons of the functionality with the help of plugins, it allows to increase the engine possibility significantly. To find plugins, go to the Extensions section.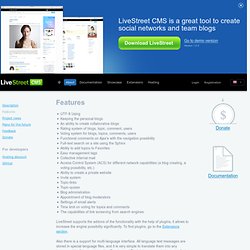 LiveStreet CMS - free social network engine
Online Collaboration Workspace
Document collaboration
How to buy Huddle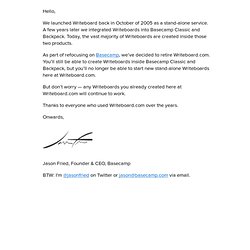 Hello, We launched Writeboard back in October of 2005 as a stand-alone service.