A classificar
Upload and Search Theses and Dissertations - OpenThesis. 7 cas concrets d'utilisation de l'e-reputation au quotidien « QSN-DigiTal : le blog e-reputation. Le phénomène de e-reputation est désormais intégré par les spécialistes des tendances du web et de l'analyse des comportements des internautes.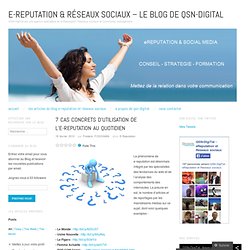 La preuve en est, le nombre d'articles et de reportages par les mainstreams médias sur ce sujet, dont voici quelques exemples : - Le Monde : Usine Nouvelle : Le Figaro : Femme Actuelle : POP COM Canal+ : Nous assistons bien à une réelle évolution des comportements sur le web mais les acteurs de cette évolution, les internautes, ne sont pas forcément conscients de l'impact de leur rôle et encore moins du fait qu'ils sont à l'origine du phénomène de e-reputation.
Un peu comme Monsieur Jourdain (Le Bourgeois Gentilhomme) fait de la prose sans le savoir, la plupart des internautes font de l'e-reputation et l'utilise sans s'en rendre compte. Clipping Tool Installed. Datos de contacto.
EntreteneTIC. IMAGE. Recomendados. Investigación, publicación y divulgación. Proyectos. Revues. Líneas de trabajo y principios. Referencia. Bibliotest. +. ++ Ergonomie du site public. Products. Our yFiles product family offers high-quality diagramming for Java / JavaFX and .NET applications (Windows Forms and WPF) as well as for web applications based on HTML5/JavaScript, Apache Flex or AJAX technologies, or the Microsoft Silverlight framework.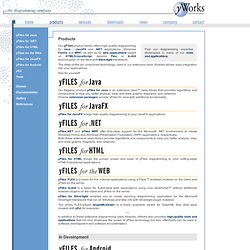 The state-of-the-art component technology used in our extensive class libraries allows easy integration into your applications. See for yourself! Our flagship product yFiles for Java is an extensive Java™ class library that provides algorithms and components to help you better analyze, view, and draw graphs, diagrams, and networks. Diverse extension packages provide yFiles for Java with additional functionality.
---