Theme Parks
Disney Environmentality - Enviroport 2007. Our 2010 Corporate Citizenship Report details Disney's progress on environmental and social impacts, and includes the company's first set of comprehensive citizenship commitments and goals.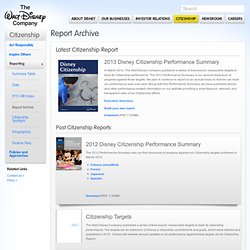 The interactive multimedia report includes coverage of eight key areas: family entertainment, inspiring kids and communities, nature conservation, environment, community, workplaces, supply chain, and human rights. An interactive map provides insights into Disney's activities around the world. The report follows the standards of the Global Reporting Initiative (GRI). Facts. Walt Disney World's Buildings Cinderella Castle October 1998: Cinderella Castle can now be illuminated in 16 million colors, providing even more magic during "Fantasy in the Sky" fireworks at the Magic Kingdom.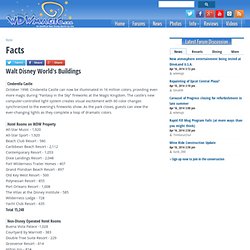 The castle's new computer-controlled light system creates visual excitement with 60 color changes synchronized to the evening's fireworks show. As the park closes, guests can view the ever-changing lights as they complete a loop of dramatic colors. How disney saves energy by Paul Allen. Six Flags.
---