Photoshop Index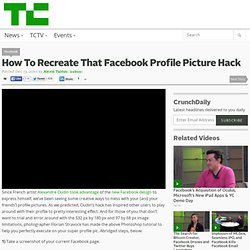 Since French artist Alexandre Oudin took advantage of the new Facebook design to express himself, we've been seeing some creative ways to mess with your (and your friends') profile pictures. As we predicted, Oudin's hack has inspired other users to play around with their profile to pretty interesting effect. And for those of you that don't want to trial and error around with the 532 px by 180 px and 97 by 68 px image limitations, photographer Florian Stravock has made the above Photoshop tutorial to help you perfectly execute on your super profile pic. Abridged steps, below: 1) Take a screenshot of your current Facebook page. 2) Create a new Photoshop doc.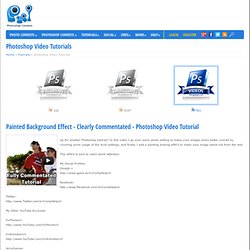 Up for another Photoshop tutorial? In this video I go over some photo editing to make your images looks better overall by covering some usage of the level settings, and finally I add a painting looking effect to make your image stand out from the rest. This effect is sure to catch some attention. My Social Profiles: Google + http://www.gplus.to/VvCompHelpvV
Photoshop Video Tutorials - Overview Page 1
If your next design project involves some manipulation of typeface, you do not want to miss this article. I have always found that text effects is one of the coolest things that you can create in Photoshop. In this post I have rounded up some of the best Photoshop text effects tutorials from around the web. Topics like how to Create Chrome text effects are just a few of the tutorials that are featured. These Photoshop tutorials will arm you with all the latest techniques to help you in your design creations. So why not check them out so you can show off your latest text effects designs.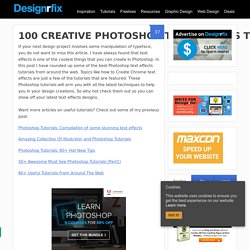 Christmas lights | Graphix Grudge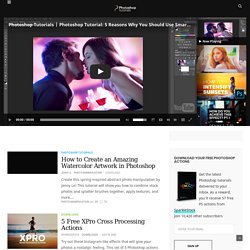 Create a Photo Manipulation of Alice in Wonderland Learn how to this surreal photo manipulation of an Alice in Wonderland on amazing and surreal atmosphere with Photoshop. In this tutorial, you'll learn how to create your amazing atmosphere and adventure tales with realistic shadows and lighting, then complete it with a bleak color tone effect. Throughout the tutorial, you'll learn techniques that will help you create better matte paintings and photo manipulations. Read this tutorial and find out how easy it is!
Do you like exploding planets, energy spheres, ruined cities, telepathic warriors, gloomy nebulas, and light-rays? Well, you've come to the right place. In today's round up we've put together a list of some of the coolest dark and futuristic Photoshop effects that we could find. Please take a moment to review some of our favorites. This post was originally published on Psdtuts in August 2008. 1.
Dark and Futuristic Photoshop Effects