Psy
SCHOPENHAUER'S 38 STRATAGEMS. Arthur Schopenhauer (1788-1860), was a brilliant German philosopher.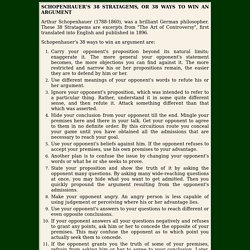 These 38 Stratagems are excerpts from "The Art of Controversy", first translated into English and published in 1896. Carry your opponent's proposition beyond its natural limits; exaggerate it. The more general your opponent's statement becomes, the more objections you can find against it. The more restricted and narrow his or her propositions remain, the easier they are to defend by him or her. Philosophie, religion, science et conscience - Dieu, Platon, Darwin et l'avenir. Esoterique. Que chacun, s'il a des oreilles écoute bien ce que l'Esprit dit aux églises!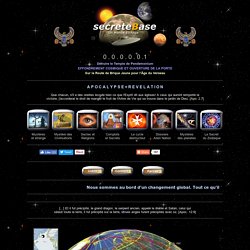 A ceux qui auront remporté la victoire, j'accorderai le droit de manger le fruit de l'Arbre de Vie qui se trouve dans le jardin de Dieu. [ Apocalypse de Jean 2 :7 ] The Personality Page. We all come in different SHAPES and SIZES.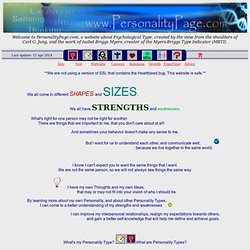 We all have STRENGTHS and weaknesses. What's right for one person may not be right for another. Raison et passion. Passion vient du latin passio, "souffrir" : ça rigole pas !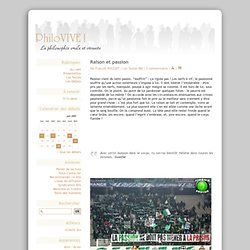 Les nerfs à vif, le passionné souffre qu'une action extérieure s'impose à lui. Il doit tolérer l'intolérable : être pris par les nerfs, manipulé, poussé à agir malgré sa volonté.
---