Google
Verizon Galaxy Nexus Review. Here in the LTE version of the newest Google hero phone, the Verizon Galaxy Nexus (also known as the Samsung Galaxy Nexus or Galaxy Nexus 4G LTE) has not only the unique claim to running Google's newest mobile operating system Android 4.0 Ice Cream Sandwich first, it's also connected to the fastest network in the states, and best of all: you can go to your corner Verizon store and purchase one, unlike the international edition.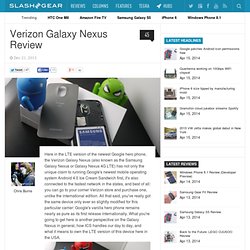 All that said, you've really got the same device only ever so slightly modified for this particular carrier: Google's vanilla hero phone remains nearly as pure as its first release internationally. What you're going to get here is another perspective on the Galaxy Nexus in general, how ICS handles our day to day, and what it means to own the LTE version of this device here in the USA. Cyber Weapons: The New Arms Race. In the early morning hours of May 24, an armed burglar wearing a ski mask broke into the offices of Nicira Networks, a Silicon Valley startup housed in one of the countless nondescript buildings along Highway 101.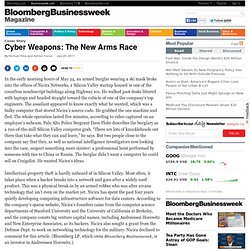 He walked past desks littered with laptops and headed straight toward the cubicle of one of the company's top engineers. The assailant appeared to know exactly what he wanted, which was a bulky computer that stored Nicira's source code. He grabbed the one machine and fled. The whole operation lasted five minutes, according to video captured on an employee's webcam. Palo Alto Police Sergeant Dave Flohr describes the burglary as a run-of-the-mill Silicon Valley computer grab.
Lead Gen Sites Pose Challenge to Google - the Haggler. Larry Page already cracking the whip at Google, a week before he takes the reins. Larry Page may not take over the reins as Google's chief executive until next week, but he's already begun cracking the whip amongst senior management, including holding daily brainstorm sessions at the search behemoth's headquarters, The Wall Street Journal reports.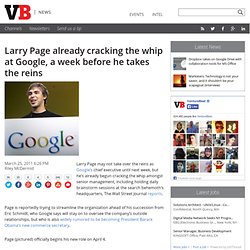 Page is reportedly trying to streamline the organization ahead of his succession from Eric Schmidt, who Google says will stay on to oversee the company's outside relationships, but who is also widely rumored to be becoming President Barack Obama's new commerce secretary. Page (pictured) officially begins his new role on April 4. As part of Page's new management regime, one-on-one sessions are being held daily with top execs such as engineering head Jeff Huber, legal head Jeff Drummond, product vice president Jonathan Rosenberg and YouTube overseer Salar Kamangar. But Page isn't only focused on the top brass at Google. Google Gets Record 75,000 Job Applications in a Week. Google Inc., the world's biggest Internet-search service, received more than 75,000 job applications worldwide last week, setting a record for the company as it embarks on a hiring spree.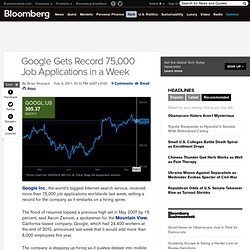 The flood of resumes topped a previous high set in May 2007 by 15 percent, said Aaron Zamost, a spokesman for the Mountain View, California-based company. Google, which had 24,400 workers at the end of 2010, announced last week that it would add more than 6,000 employees this year. The company is stepping up hiring as it pushes deeper into mobile services, display advertising and Internet applications.
Google also faces steeper competition from Silicon Valley rivals Facebook Inc. and Apple Inc. for users and engineering talent. The company aims to hire more workers in 2011 than any year in its history, exceeding its 2007 record. I/O. The $1000 Soalr Water Heating System. Search The Renewable Energy site for Do-It-Yourselfers Directory -- for the system overview provided on this page: This page gives an overview of the $1K Solar Water Heating System.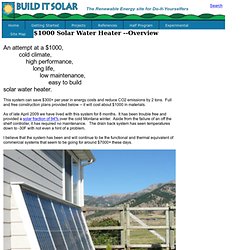 Important: This page is just a quick overview of the system, but there are 20+ pages covering the design, construction, testing, cost, and performance of the system in great detail -- see this ROAD MAP for all of the gory details. Objectives for the System. How To Sync Google Contacts & Calendar with iPhone | The iPh. Earlier, Google announced the public release of Google Sync (Beta) that allows you to sync Google Contacts and Calendar events over the air.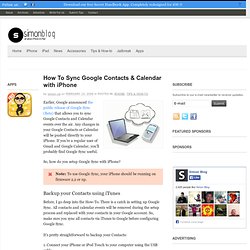 Any changes in your Google Contacts or Calendar will be pushed directly to your iPhone. If you're a regular user of Gmail and Google Calendar, you'll probably find Google Sync useful. TechCrunch (TechCrunch)
---