Blogs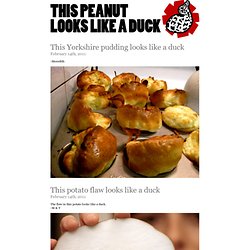 This potato flaw looks like a duck The flaw in this potato looks like a duck. -M & T
This Peanut Looks Like A Duck
Pierogi Recipe
October 2, 2010 My mom is obsessed with keeping a stocked freezer, but I guess I don't really take after her, because my freezer tends to be relatively empty, aside from random containers of stock/ramen broth, frozen dumplings and pierogi. I admit, I store buy frozen chinese dumplings and pierogi for those times that I just don't feel like cooking. I tell myself it's because of ease and convenience, but really, I just love the taste of frozen pockets filled with deliciousness. Pierogi are fast, tasty, and ideal for when I let myself get too hungry and become a crazy unthinking monster. (This happens more often than you would believe).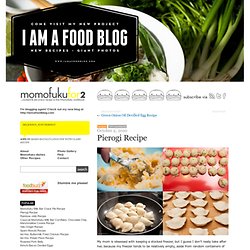 Ten apetyczny torcik jest duży i podzielny. Jabłkowo-orzechowa masa bardzo dobrze komponuje się z wiśniowym smakiem galaretki i ciasta na bazie owocowego kisielu. Ciasto jest smaczniejsze, gdy sobie poleży, najlepiej do następnego dnia, a zawarte w masie jabłka nawilżą je. Przepis pochodzi z miesięcznika Babeczka nr 9/96. Trochę zmodyfikowałam. Składniki ciasta I:
TORCIK JABŁKOWO- ORZECHOWY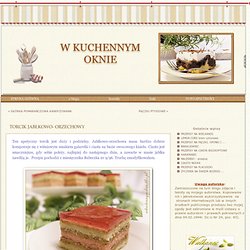 Warm Bacon Potato Salad Recipe
Thursday, October 6, 2011 Warm Bacon Potato Salad A couple of years ago, my husband, Scott, asked me to make a potato salad.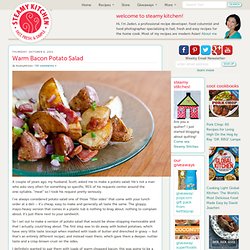 Megan Gordon mom.me
Jamie Cooks It Up!: Creamy Chipotle Black Bean Chicken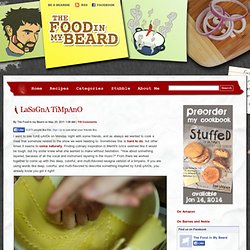 I went to see tUnE-yArDs on Monday night with some friends, and as always we wanted to cook a meal that somehow related to the show we were heading to. Sometimes this is hard to do, but other times it seems to come naturally. Finding culinary inspiration in Merrill's lyrics seemed like it would be tough, but my sister knew what she wanted to make without hesitation. "How about something layered, because of all the vocal and instrument layering in the music?" From there we worked together to come up with this deep, colorful, and multi-flavored lasagna version of a timpano. If you are using words like deep, colorful, and multi-flavored to describe something inspired by tUnE-yArDs, you already know you got it right!
LaSaGnA TiMpAnO
Share this image Share It Pin It When I first graduated from college, and was living in a dreary little apartment, mac and cheese was one of my few specialties.
Mac and Cheese Cups - Cupcakes and Cashmere - StumbleUpon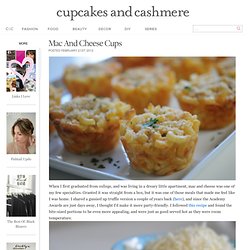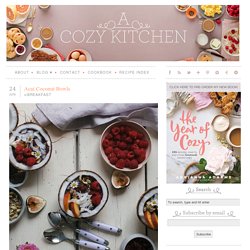 A Cozy Kitchen
I spent this past weekend in one of my favorite cities, Palm Springs. It's about an hour and half-long drive east of Los Angeles, making it the most perfect weekend getaway to Angelenos. I really really love it out there, even in the summers when the temperatures soar above a hundred. In terms of aesthetics, it doesn't get more beautiful. It's a dreamy combination of mid-century meets Moroccan meets Spanish. Palm trees and bougainvilleas line the streets while old cars drive up and down quiet neighborhood roads.
Homemade Junk Food | Spark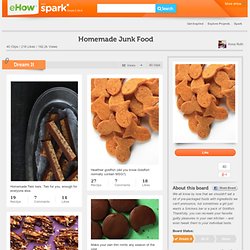 Homemade Twix bars. Two for you, enough for everyone else. 19 Reclips 14 Likes
foodgawker | feed your eyes
Food - Recipes from Programmes : Masterchef: The Professionals
Fictional Food
Serious Eats: A Food Blog and Community
Foodimentary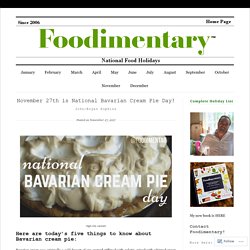 Interesting Food Facts about Eggs Benedict Eggs Blackstone substitutes streaky bacon for the ham and adds a tomato slice.Huevos Benedict substitutes avocado for the ham, and is topped with both salsa and hollandaise sauce.Eggs Sardou substitutes artichoke bottoms and crossed anchovy fillets for the English muffin and ham, then tops the hollandaise sauce with chopped ham and a truffle slice. The dish was created at Antoine's Restaurant in New Orleans in honor of the French playwright Victorien Sardou. A more widespread version of the dish starts with a base of creamed spinach, substitutes artichoke bottoms for the English muffin, and eliminates the ham.Portobello Benedict substitutes Portobello mushrooms for the ham, and is a popular alternative for Catholics observing the Friday Fast.Eggs Provençal replaces the Hollandaise sauce with Béarnaise Sauce. Fun Fact:
My Fridge Food
I found these helpful charts last week and just had to share! Both of these beauties are from Chasing Delicious (aka one of the most fab foodie blogs out there)! Aren't they faaaaabulous?! Buy them here.
Kitchen Helpers - StumbleUpon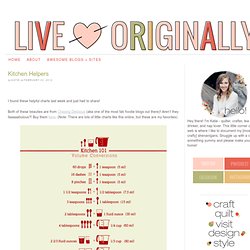 101 Cookbooks - Healthy Recipe Journal
This soup is built on a monster white pepper broth. White pepper with jolts of ginger, and stabs of garlic. I like it just shy of scalding, racing down my throat, sweeping through my sinuses in one boisterous, fragrant swoop. This is a soup I make often, particularly when I need a boost. And, while I float other ingredients in the broth, mostly to make a meal of things, that part of the equation is usually an after thought.
Simply So Good
Every now and then we all need a little guilty pleasure. What about a non-guilt pleasure? These little cakes are rich yet flourless. They are made with high-quality chocolate and luscious almond butter making them a more healthful choice. I have received comments from friends and family that my blog has recipes that are too difficult and have too many steps and ingredients.
¡Apunta la fecha! El miércoles 23 de abril presentamos el libro de Directo al Paladar en la librería A Punto de Madrid y estáis todos invitados, pues se trata de un evento abierto al público en el que podréis disfrutar de un showcooking en el que prepararemos algunas de las recetas del libro, así como comprar un ejemplar con un 10% de descuento y llevároslo firmado. Y es que la A Punto Librería nos tiene preparada una velada muy interesante con motivo de La Noche de los Libros. A las 18 horas presentará su libro Clara P. Villalón, El Club del Cupcake, a las 19 horas llegará el turno de Directo al Paladar y, por último, la presentación de la Guía del Vino Cotidiano, editada por Opus Wine.
Recetas de cocina y gastronomía. Directo al Paladar
Get Cooking with Free Online Learning Resources
Punchfork | The best new recipes from top food sites
The Kitchn | Inspiring cooks, nourishing homes
G'nosh
gimme some oven
Dinner Recipes, Grocery Lists, Meal Planner - Dinner Tool
Closet Cooking
Free Online Recipes | Free Recipes
Picture the Recipe
Guy Gourmet | MensHealth.com | Men's Health
Baked Egg Boat recipe
How Sweet It Is
TasteSpotting | a community driven visual potluck
Kevin & Amanda
The Sweets Life
Chocolate Cheesecake Cake
Happy Healthy Long Life: The Healthy Librarian's "Enlightened" Take on Veganomicon Baked Pumpkin Penne Pasta with Caramelized Onions and Sage Crumb Topping
http://whatsgabycooking.com/
Best of the Food Blogs
The top 500 cooking blogs - Cellarer.com