Blogs
This Peanut Looks Like A Duck. This potato flaw looks like a duck The flaw in this potato looks like a duck.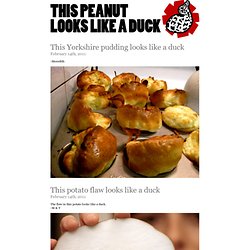 -M & T. Pierogi Recipe. October 2, 2010 My mom is obsessed with keeping a stocked freezer, but I guess I don't really take after her, because my freezer tends to be relatively empty, aside from random containers of stock/ramen broth, frozen dumplings and pierogi.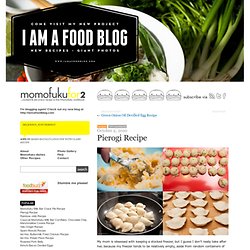 I admit, I store buy frozen chinese dumplings and pierogi for those times that I just don't feel like cooking. I tell myself it's because of ease and convenience, but really, I just love the taste of frozen pockets filled with deliciousness. Pierogi are fast, tasty, and ideal for when I let myself get too hungry and become a crazy unthinking monster. (This happens more often than you would believe). TORCIK JABŁKOWO- ORZECHOWY. Ten apetyczny torcik jest duży i podzielny.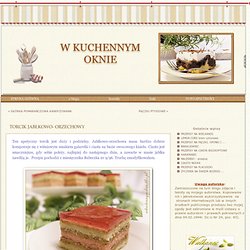 Jabłkowo-orzechowa masa bardzo dobrze komponuje się z wiśniowym smakiem galaretki i ciasta na bazie owocowego kisielu. Ciasto jest smaczniejsze, gdy sobie poleży, najlepiej do następnego dnia, a zawarte w masie jabłka nawilżą je. Przepis pochodzi z miesięcznika Babeczka nr 9/96. Trochę zmodyfikowałam. Składniki ciasta I: Warm Bacon Potato Salad Recipe. Thursday, October 6, 2011 Warm Bacon Potato Salad A couple of years ago, my husband, Scott, asked me to make a potato salad.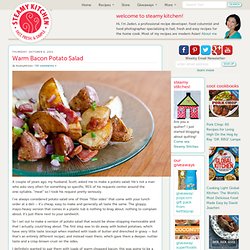 Megan Gordon mom.me. Jamie Cooks It Up!: Creamy Chipotle Black Bean Chicken. LaSaGnA TiMpAnO. I went to see tUnE-yArDs on Monday night with some friends, and as always we wanted to cook a meal that somehow related to the show we were heading to.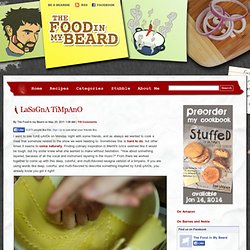 Sometimes this is hard to do, but other times it seems to come naturally. Finding culinary inspiration in Merrill's lyrics seemed like it would be tough, but my sister knew what she wanted to make without hesitation. "How about something layered, because of all the vocal and instrument layering in the music? " From there we worked together to come up with this deep, colorful, and multi-flavored lasagna version of a timpano. If you are using words like deep, colorful, and multi-flavored to describe something inspired by tUnE-yArDs, you already know you got it right! Mac and Cheese Cups - Cupcakes and Cashmere - StumbleUpon. Share this image Share It Pin It When I first graduated from college, and was living in a dreary little apartment, mac and cheese was one of my few specialties.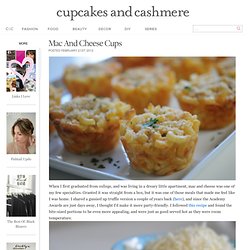 A Cozy Kitchen. Homemade Junk Food | Spark. Homemade Twix bars.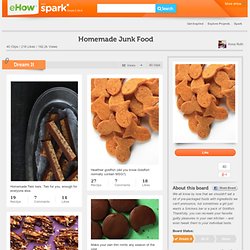 Two for you, enough for everyone else. 19 Reclips 14 Likes. Foodgawker | feed your eyes. Food - Recipes from Programmes : Masterchef: The Professionals. Fictional Food. Serious Eats: A Food Blog and Community. Foodimentary. My Fridge Food. Kitchen Helpers - StumbleUpon. I found these helpful charts last week and just had to share!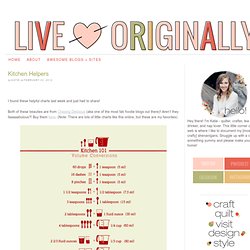 Both of these beauties are from Chasing Delicious (aka one of the most fab foodie blogs out there)! Aren't they faaaaabulous?! Buy them here. Food Blogs. 101 Cookbooks - Healthy Recipe Journal. Simply So Good. Recetas de cocina y gastronomía. Directo al Paladar. Get Cooking with Free Online Learning Resources. Reading an unfamiliar recipe can be frustrating: What steps, exactly, do you take to butterfly a chicken?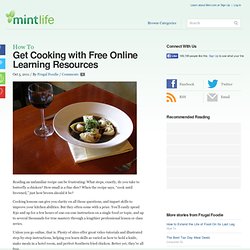 How small is a fine dice? When the recipe says, "cook until browned," just how brown should it be? Cooking lessons can give you clarity on all those questions, and impart skills to improve your kitchen abilities. But they often come with a price. You'll easily spend $50 and up for a few hours of one-on-one instruction on a single food or topic, and up to several thousands for true mastery through a lengthier professional lesson or class series. Punchfork | The best new recipes from top food sites. The Kitchn | Inspiring cooks, nourishing homes. G'nosh. Gimme some oven. Dinner Recipes, Grocery Lists, Meal Planner - Dinner Tool. Closet Cooking. Free Online Recipes | Free Recipes. Picture the Recipe. Guy Gourmet | MensHealth.com. Fuel Up With Cashew Bacon Rice Bars If you're tired of sucking back energy gels or chomping through granola bars on a bike ride or training run, here's a solution: Eat real food.Long before the...Continue Reading By Billy Brown on April 04, 2014 Trump Hot Wings With Buffalo Cauliflower I'm sorry, but screw wing night.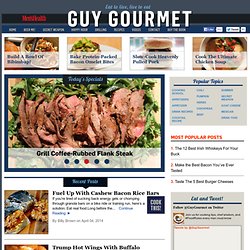 I know that going out with friends to gorge on cheap chicken parts stands as one of man's favorite forms of socializing, but...Continue Reading By Paul Kita on March 24, 2014 Grill Coffee-Rubbed Flank Steak Sometimes an ingredient is a gift.Last October, I began a story for the April 2014 issue of Men's Health in which I cooked (and ate) my way through 1/8th of a...Continue Reading By Paul Kita on March 18, 2014 Simmer Spicy-Sour Thai Coconut Soup I used to look at recipes and stop dead at unknown ingredients. "What the hell is that?" Baked Egg Boat recipe. Breakfast is my favorite meal. I like to drink iced coffee and watch the cream climb its way down the chunky ice cubes in a dazy before the caffeine hits.
I like to order bacon with whatever I'm eating. I like eating potatoes with ketchup. I like eggs over easy, and fluffy scrambled eggs. How Sweet It Is. TasteSpotting | a community driven visual potluck. Kevin & Amanda. The Sweets Life. Chocolate Cheesecake Cake. Chocolate Cheesecake Cake You know how some people really don't get along well with their In-Laws? How visits with them are stressful and awkward and generally awful for many people? The Healthy Librarian's "Enlightened" Take on Veganomicon Baked Pumpkin Penne Pasta with Caramelized Onions and Sage Crumb Topping. Veganomicon's Caramelized Onion Pumpkin Penne Pasta--the "Enlightened" Version Caramelized Onions, Crunchy Topping, Creamy Filling--Healthy Deliciousness Click here to get to the web version with photos & links, if you received this post via email. Never in a million years would I have picked this recipe out of Veganomicon.
But my husband zeroed right in on it--he thought it sounded good. Best of the Food Blogs. The top 500 cooking blogs - Cellarer.com.
---