GAMES
Guild Wars 2 Engineer PvP Damage Build. This Guild Wars 2 guide is intended to be a quick resource for any Engineer, used as easy access to the latest effective and popular end-game weapon combinations and builds for PvE, sPvP, and WvW.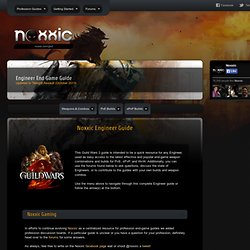 Additionally, you can use the forums found below to ask questions, discuss the state of Engineers, or to contribute to the guides with your own builds and weapon combos. Use the menu above to navigate through this complete Engineer guide or follow the arrow(s) at the bottom. WvW Engineer Build thread - Engineer. Running WvW Engineer Spec since i reach lvl 80.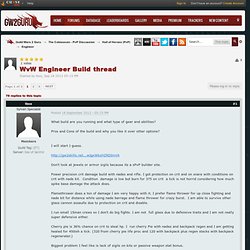 Build ill post it its purly for wvw and was made on experience during different fights in wvw. 30 explosives to get 1500 range on granades +1 extra grande, decres grande CD by 20% and burn on cryts ( 33%) 10 in fire arms for 1200 rifle range 10 in alchemy for aouto elixir S on 25% health 20 in tools for pure CRYT DMG BONUS + perma swfiftnes ( 5s evrytime you switch to kit - med or grande kit ) + 10% dmg while standing still or ... my personal choice LEG MODS Gearwise all 80lvl exotic Power/prec/cryt dmg + 6 scholar runes.
Build Editor :: Guild Wars 2 Skills. Engineer: Pistols and Elixirs for Conditions and Boons - Guild Wars 2 Grandmaster. Teldo build. Well-o-mancer. The primary Necro role in zerg WvW encounters is damage and support via debuffs and condition conversions, mostly via Wells, and back line disruption via Plague form.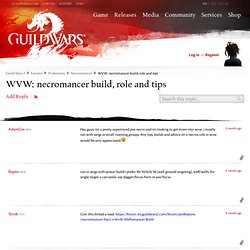 As such, Power builds tend to be better than Condi builds in large group engagements. I've been running a slight variation on Ascii's build where I go 15 into SR instead of a full 25 in DM. I've also run a 20/20/0/0/30 build (which a guildmate turned me on to) which centers more around DS flashing for stability and fury, but I'm still on the fence as to which works better for me overall. Zend(ario/imas/iana/ango) – Engi/Ele/Necro/Guardian [KnT] – Blackgate. Well-o-mancer Build. Necromancer Build Calculator. Yuuki's guide to create your own necro pvp build - Necromancer. 1.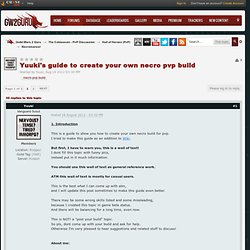 Introduction This is a guide to show you how to create your own necro build for pvp. I tried to make this guide as an addition to Wiki. But first, I have to warn you, this is a wall of text! Guild Wars 2 Necromancer PvP Damage Build. This Guild Wars 2 guide is intended to be a quick resource for any Necromancer, used as easy access to the latest effective and popular end-game weapon combinations and builds for PvE, sPvP, and WvW.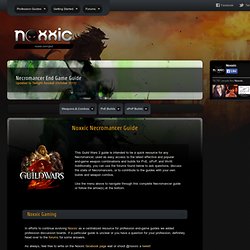 Additionally, you can use the forums found below to ask questions, discuss the state of Necromancers, or to contribute to the guides with your own builds and weapon combos. Use the menu above to navigate through this complete Necromancer guide or follow the arrow(s) at the bottom. In efforts to continue evolving Noxxic as a centralized resource for profession end-game guides we added profession discussion boards. If a particular guide is unclear or you have a question for your profession, definitely head over to the forums for some answers. Necromancer - Build PvP - Condizioni/Danno. Warning: This website requires to be javascript enabled in order to function properly.
Death Shroud Form. Assume spectral form and gain new skills, turning your Life Force into health. Click to open GW2 Wiki. Complete Monk Guide. Themonkprodigy - Act 3 Inferno Monk Farming - Insight and Commentary! NEW WEAPON 42K DPS GGGG. GiqSP. INSANE DPS Vid Build Guide - Monk Inferno. INSANE DPS BUILD. Monk - Game Guide. Dudu feral pvp. Priest Discipline pvp. WoW Spirits 3.3.5: Discipline Priest PvP Talent Build (WotLK 3.3.5) This is an aggressive disc priest build for arena.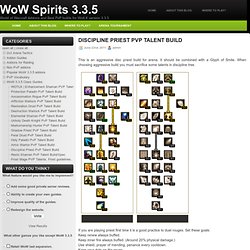 It should be combined with a Glyph of Smite. When choosing aggressive build you must sacrifice some talents in discipline tree. Disc Priest PvP Guides « The Nonchalant Priest. The Nonchalant Priest A romp around Azeroth, Disc Priest style Disc Priest PvP Guides Part One: Spec, Gear and Glyphs.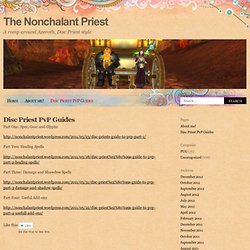 Shadowpriest dps. Presto verrà aggiornata con Spec e cazzi vari, tra cui macro etc...
Guida Priest La seguente guida è stata fatta a "cappella" per aiutare i Priest nabbetti di gilda. Detto questo, son qui per illuminarvi sul ruolo del Priest nei Raid, sul come speccarlo e su come livellarlo. -1.0: Cos'è il Priest nella WoTLK. Il Priest nella WoTLK non è più il Main Healer per eccellenza sul singolo target come lo era in TBC, ora il suo è un ruolo più da Healer Utility che come Healer per singolo target. A Priest PvP Guide - By Urion. Hi, Priests.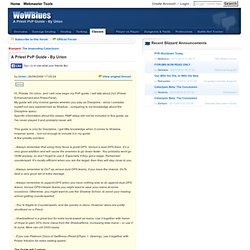 I'm Urion, and I will now begin my PvP guide. I will talk about 2v2 (Priest-Enhancement and Priest-Feral).My guide will only involve games wherein you play as Discipline - since I consider myself not very experienced as Shadow - comparing to my knowledge about the Discipline specc.Specific information about the classic RMP setup will not be included in this guide, as I've never played it and probably never will. This guide is only for Discipline, I got little knowledge when it comes to Shadow, however some – but not enough to include it in my guide.A few priestly pointers: - Always remember that using Holy Nova Is great DPS. Shaman Elemental pvp. Guida allo shamano elemental PVP. Bindings: Eh si ragazzi, se non siete amanti dei Key Bindings allora il pvp non fa per voi. Forse potete fare lo vostra rotazione in pve cliccando (non so come fate a essere competitivi pero') ma in pvp non si clicca: 1 secondo di ritardo puo' voler dire morte.
Aiutatevi con Bartender o con la UI di base, fate voi. Shaman Enhancement pvp. [PVP] Enhancement Shaman General Guide. Rotation "Because its so easy" Introduction The hardest class to handle and know, are Enhancement shamans in both pvp and pve. They dont have a rotation nor cast sequence, they just adapt to the circumstance. i will explain you how to pvp against many classes and how to counter X spell or ability. here we go! Basic things u will always do. PvP Stats for Enhancement Shamans. Pvp gear list. Hit and expertise caps.
There was some interesting discussion in guild chat the other day (we have left our raiding guild and joined another more casual Singaporean guild since we weren't doing much raiding anyway). A friend who was playing his 80 death knight was asking about dual wielding for dps/tanking, and asking for advice. Amidst the discussion I brought up the problem of the miss rate of dual wielding along with the necessity of capping expertise. To my surprise I realised that many people still are very confused about this and have no idea how it works. To be frank, while I knew the mechanics I had also not really paid much attention to the difference in ratings at level 80 since I wasn't raiding. Newgrounds. Armor Games. WarLight | Strategy Games. Space is Key. Berzerk Studio.
---