Contests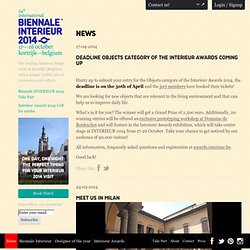 Meet the Biennale Interieur during Salone del Mobile in Milan at Atelier Clerici: a 5-day programme of exhibitions and events by a select group of designers, galleries and institutions at the elegant Palazzo Clerici. At Atelier Clerici, Joseph Grima (Space Caviar) —curator of the cultural programme of Biennale Interieur 2014—will display an analysis of the domestic interior over time. The presentation is part of Grima's research programme commissioned by Interieur. Using architectural drawings to construct an imaginary landscape of "ideal" homes designed throughout the centuries, we will explore how models of living have evolved in response to social change. During Milan's design week, a series of discussions will be moderated by Joseph Grima between design practitioners and critics, many of whom have been guests of Interieur in the past. Around the drawing table, the participants will come together at unexpected moments to reflect on the status of contemporary domesticity.
Interieur 2012
DesignCompetition.com
Designophy
Out of five hundred projects, from the most mind-boggling to the most avant-garde submitted by both professionals and students, four were selected from each category. Once again this year, creativity and audacity were out in force, ready to overturn established codes. The participants gave their best, thanks to their talent and the infinite possibilities offered by HI-MACS®. The winners of the 2011 HI-MACS® Design competition organized by LG Hausys Europe have been announced at a ceremony during the 100% Design show in London.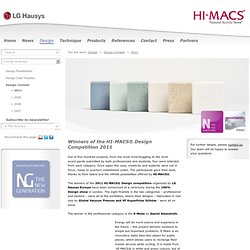 5th HI-MACS®
Whats Bubbling?
Contest Watchers
No obligation to sign up or start a contest. Information will be kept private. You can use this questionaire to launch a contest if you desire. Get the logo that you really want by choosing from 50-200+ custom designs, instead of settling on a design from a handful of options that a traditional design firm provides.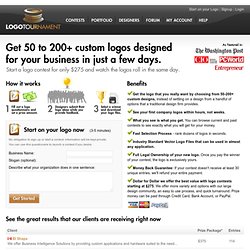 You cast your votes, and the results are in! Throughout the summer of 2007, Linotype put out the call for posters created with the Helvetica typeface. Last year was the typeface's 50th birthday, and we thought that this contest would be the most fitting birthday gift for a font! Hundreds of entries were submitted, and beginning in October, visitors to Linotype.com voted for their favorite designs. Helvetica has helped shaped the landscape of twentieth century graphic design.
Helvetica NOW Poster Contest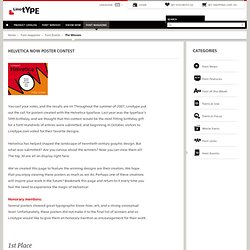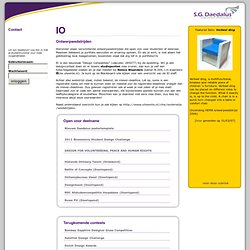 Ontwerpwedstrijden Hieronder staan verschillende ontwerpwedstrijden die open zijn voor studenten of iedereen. Meedoen betekent je portfolio aanvullen en ervaring opdoen. En als je wint, is niet alleen het geldbedrag leuk meegenomen, bovendien staat dat erg tof in je portfolio/CV.
S.G. Daedalus, de studievereniging voor Industrieel Ontwerpen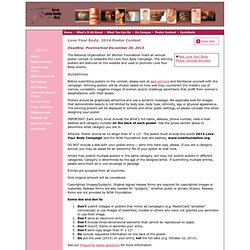 Love Your Body: 2008
Love Your Body: 2014 Poster Contest Deadline: Postmarked December 20, 2013 The National Organization for Women Foundation hosts an annual poster contest to celebrate the Love Your Body Campaign.