Modeling
Neon lights" by Nadine Schönfeld. Brain Fitness And Memory Programs, Brain Training - CogniFit. Hinter den Kulissen: Artiface Shooting mit Bonnie Strange | Jane Wayne News. Make Up und ich, wir sind keine Freunde.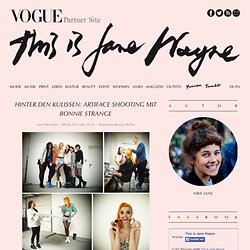 Schwarze Flecken unter den Augen nach verunglückten Tuschversuchen, rosa Clownswangen wegen all des Rouges und Lippenstiftflecken auf den Zähnen – so in etwa sieht mein ganz eigener Schminkkosmos aus. Livia von der Heide ist also offensichtlich das Gegenteil von mir: Geschickt und detailverliebt beschäftigt sie sich vermutlich schon seit ihrer Kindheit mit der hohen Kunst des Gesichter-Garnierens.
Aus dieser Leidenschaft ist inzwischen ein Beruf geworden: Mit Artiface launchte sie kürzlich die vielleicht erste Beauty-Plattform, die sich an echten Frauen orientiert und wöchentlich selbstproduzierte Videos herbei zaubert, mit denen sogar ich etwas anfangen kann. Seit wir die Macherinnen hinter Artiface heute Morgen persönlich kennenlernen durften, steht für uns jedenfalls fest: Wer mit so viel Herzblut dabei ist, seinen eigenen Traum zu verwirklichen, vor dem ziehen wir gern unseren imaginären Hut.
Big, Bigger, the Biggest: G-Star Raw in Hong Kong. Grand Opening des G-Star Raw Stores in Hong Kong.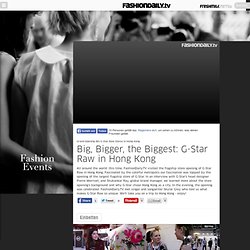 All around the world: this time, FashionDaily.TV visited the flagship store opening of G-Star Raw in Hong Kong. Fascinated by the colorful metropolis our fascination was topped by the opening of the largest flagship store of G-Star. In an interview with G-Star's head designer Pierre Morriset, and Shubankar Ray, global brand manager, we learned more about the store opening's background and why G-Star chose Hong Kong as a city. Quintanacouture.com. How to Be Photogenic: 10 steps (with pictures) Edit Article Focusing on Your FacePosing Your BodyConsidering the Photos Edited by Alan J, Jack Herrick, Taxciter, Zack and 125 others Having your photo taken can seem like a frightening endeavor, especially when it seems that you never look quite as good in portraits as you do in reality.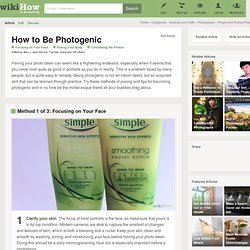 This is a problem faced by many people, but is quite easy to remedy. Being photogenic is not an inborn talent, but an acquired skill that can be learned through practice.
---