Modeling
Neon lights" by Nadine Schönfeld
Make Up und ich, wir sind keine Freunde. Schwarze Flecken unter den Augen nach verunglückten Tuschversuchen, rosa Clownswangen wegen all des Rouges und Lippenstiftflecken auf den Zähnen – so in etwa sieht mein ganz eigener Schminkkosmos aus. Livia von der Heide ist also offensichtlich das Gegenteil von mir: Geschickt und detailverliebt beschäftigt sie sich vermutlich schon seit ihrer Kindheit mit der hohen Kunst des Gesichter-Garnierens. Aus dieser Leidenschaft ist inzwischen ein Beruf geworden: Mit Artiface launchte sie kürzlich die vielleicht erste Beauty-Plattform , die sich an echten Frauen orientiert und wöchentlich selbstproduzierte Videos herbei zaubert, mit denen sogar ich etwas anfangen kann. Seit wir die Macherinnen hinter Artiface heute Morgen persönlich kennenlernen durften, steht für uns jedenfalls fest: Wer mit so viel Herzblut dabei ist, seinen eigenen Traum zu verwirklichen, vor dem ziehen wir gern unseren imaginären Hut.
Hinter den Kulissen: Artiface Shooting mit Bonnie Strange | Jane Wayne News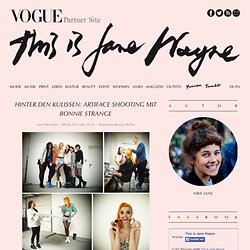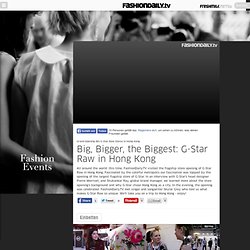 Big, Bigger, the Biggest: G-Star Raw in Hong Kong
All around the world: Diesmal besuchte FashionDaily.TV die Flagshipstore-Eröffnung von G-Star Raw in Hong Kong. Unsere Faszination der bunten Metropole wurde noch getoppt von der Eröffnung des größten Flagshipstores G-Star Raws. Im Gespräch mit Pierre Morriset, Head Designer of G-Star, und Shubankar Ray, Global Brand Manager, erfuhren wir mehr über die Hintergründe zumStore und warum sich G-Star Hong Kong als Stadt aussuchte. Am Abend wurde die Eröffnung gefeiert.
quintanacouture.com
Edit Edited by Alan J, Jack Herrick, Taxciter, Zack and 105 others