The Blog
WordPress.com and SoundCloud provide an easy-to-use embed tool that makes it simple to share music from SoundCloud to your blog. Users can upload their own music/demos (or any shareable track) to SoundCloud, and then embed a SoundCloud music player on their sites. SoundCloud supports the uploading of AIFF, WAVE, FLAC, OGG, MP2, MP3, AAC, AMR, and WMA files. Once you have located a song to embed (via search or Explore), look for the "Share" button. NOTE: If a track doesn't have this button, you will not be able to play it outside of the SoundCloud web site. After clicking on the "Share" button, click on the tab that says "Embed."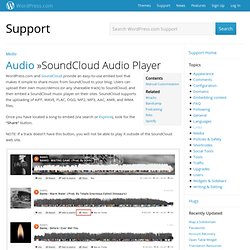 SoundCloud Audio Player
Embedding a tweet is as easy as pasting a Tweet URL on its own line. Unlike the Twitter Timeline Widget, which displays a Twitter feed in your sidebar, Twitter embeds allows you to display any individual tweet in a blog post or post comment, complete with: The tweet's textAction links allowing readers to reply, retweet, and favorite tweets without leaving your siteInline links, links to hashtag pages, linked usernames, and a follow button in the tweetA border around the tweet showing part of the background image from the Twitter profile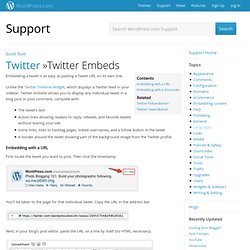 Twitter Embeds
The More Tag
You can truncate your blog entries so that only the first part of certain posts is displayed on the home and archive pages. When you do this, a link will be placed directly after your excerpt, pointing the reader to the full post. You can find the More Tag button in the first row of the visual editor toolbar or by pressing Alt+Shift+T: Using the More tag Go to Posts -> Add New in your dashboard to create a new blog entry.Note: this does not work with Pages.Begin writing your post.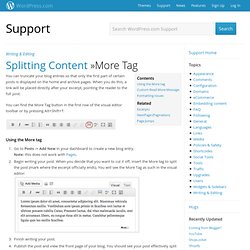 Pump Up the Volume Documentary (Complete Series)
Blogging Tips To Help You Build A Better Blog | MintBlogger
There's no doubt blogs have emerged as one of the best online platforms to launch products and services. The dynamic nature of content flow and the community around it makes it an ideal choice for delivering new products. But a product's 'launch' and a 'successful launch' are two different things. The former is easier to attain and the latter is equally easy as well provided you follow some simple steps.
Here's the line up of awesome guest speakers who will be imparting their advice and experience for you to digest, disagree with, get confused by, find interesting, and hopefully learn something from. All of the people involved are very kindly giving up their time for free, and I can't say how delighted and grateful I am that they're all taking part because these are busy people with big workloads, so handing over two hours of their mid-week schedule is a bit of a chunk, so thank you very much to them all. Also, thanks to McGrattan's for once again giving their upstairs room for free, I really appreciate it. The sessions will all take place upstairs in McGrattan's (it's off Baggot Street, down the lane where the old Sunday Tribune office used to be, around the corner from Tesco and Doheny & Nesbitts) from 7pm until 9pm.
Dancing About Architecture | Free advice and experience-based journalism courses in Dublin, Ireland.