The Blog
SoundCloud makes music sharing fast & easy. The platform takes the daily hassle out of receiving, sending & distributing music for artists, record labels & other music professionals. SoundCloud supports the uploading of AIFF, WAVE, FLAC, OGG, MP2, MP3, AAC, AMR and WMA files. To embed SoundCloud groups or member track playlists or a single track in your blog explore the SoundCloud website and or use the search to find a sound that you like. Once you have located a song to embed, look for the Share button. If a track doesn't have this button you you will not be able to play it outside of the SoundCloud web site.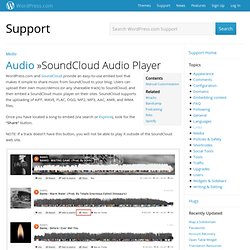 SoundCloud Audio Player
Embedding a tweet is as easy as pasting a Tweet URL on its own line. Unlike the Twitter Widget, which displays a Twitter feed in your sidebar, Twitter embeds allows you to display any individual tweet in a blog post or post comment, complete with: The tweet's textAction links allowing readers to reply, retweet, and favorite tweets without leaving your siteInline links, links to hashtag pages, linked usernames, and a follow button in the tweetA border around the tweet showing part of the background image from the Twitter profile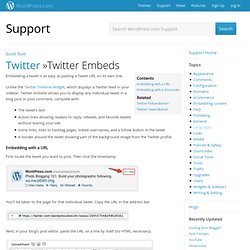 Twitter Embeds
The More Tag
You can truncate your blog entries so that only the first part of certain posts is displayed on the home and archive pages. When you do this, a link will be placed directly after your excerpt, pointing the reader to the full post. You can find the More Tag button in the first row of the visual editor toolbar or by pressing Alt+Shift+T: Using the More tag Go to Posts -> Add New in your dashboard to create a new blog entry.Note: this does not work with Pages.Begin writing your post.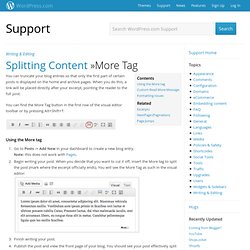 Pump Up the Volume Documentary (Complete Series)
Blogging Tips To Help You Build A Better Blog | MintBlogger
Dancing About Architecture | Free advice and experience-based journalism courses in Dublin, Ireland.