Linux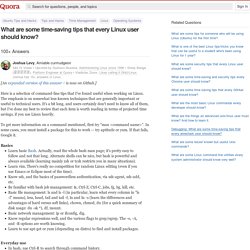 Here is a selection of command-line tips that I've found useful when working on Linux. The emphasis is on somewhat less-known techniques that are generally important or useful to technical users. It's a bit long, and users certainly don't need to know all of them, but I've done my best to review that each item is worth reading in terms of projected time savings, if you use Linux heavily. To get more information on a command mentioned, first try "man <command name>".
The problem with writing and editing on a computer, versus having words on paper, is that it's usually hard to compare text from different sections of a document when they don't fit on the screen together. One way to do it is to use Vim's viewports feature. Another is to "fold" the text. Using Vim's folding features, you can tuck away portions of a file's text so that they're out of sight until you want to work with them again.
Vim tips: Folding fun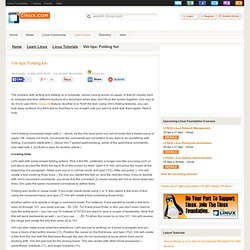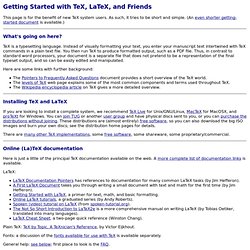 Getting Started with TeX, LaTeX, and Friends - TeX Users Group
This page is for the benefit of new TeX system users. As such, it tries to be short and simple. (An even shorter getting-started document is available.) What's going on here? TeX is a typesetting language. Instead of visually formatting your text, you enter your manuscript text intertwined with TeX commands in a plain text file.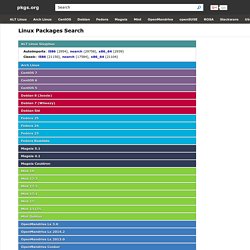 ATrpms: i386 (2730), x86_64 (2426) ATrpms Bleeding: i386 (58), x86_64 (56) ATrpms Testing: i386 (185), x86_64 (164) Atomic: i386 (1692), x86_64 (1560) CentALT: i386 (313), x86_64 (310)
Q. Can you explain UUID concept related to Linux ext3 partitions and storage devices? How do I update /etc/fstab using UUID under Ubuntu Linux or any other Linux distro? A. A Universally Unique Identifier (UUID) is an identifier standard used in software construction, standardized by the Open Software Foundation (OSF) as part of the Distributed Computing Environment (DCE). The intent of UUIDs is to enable distributed systems to uniquely identify information without significant central coordination.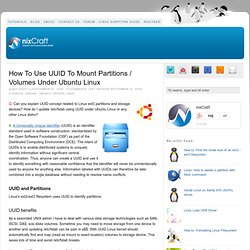 How To Use UUID To Mount Partitions / Volumes Under Ubuntu Linux