Writing Stuff
CoolStuff4Writers
The Write Prompts
Image writing prompts are a great way to stretch your creative energies whether you think you are a visual person or not. That being said, many people are at a loss on how to use photographs as a writing prompt. Photographs provide a visual cue to help us get started. The great thing about them is that no one but the person who took the image or the person in the image really knows what was going on at the time the shudder closed. This opens the door of interpretation wide open. You could probably list at least five different scenarios for the image at right but chances are you will never hit the original event bang on (and you really do not want to) -- that makes reusing the same image kind of fun too.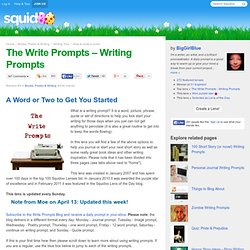 Writers Digest's 101 Best Writing Sites
Writing Prompts
The Blog of Scott Hansen » Overcoming Creative Block
I do not know what to write. I am sitting here staring at the screen, running sentences in my head, and turning my music on and off. Earlier I went foraging for food (in hopes of sparking some magical words), but ended up getting distracted by Arrested Development for 20 minutes. This happens just about every time I sit down to do anything. I'll probably go play the guitar between this paragraph and the next. Of course this is a familiar situation.