Writing Stuff
CoolStuff4Writers
The Write Prompts
What is a writing prompt? It is a word, picture, phrase, quote or set of directions to help you kick start your writing for those days when you just can not get anything to percolate (it is also a great routine to get into to keep the words flowing). In this lens you will find a few of the above options to help you journal or start your next short story as well as some really great book ideas and other writing inspiration. Please note that it has been divided into three pages (see tabs above next to "home"). This lens was created in January 2007 and has spent over 100 days in the top 100 Squidoo Lenses list. In January 2010 it was awarded the purple star of excellence and in February 2011 it was featured in the Squidoo Lens of the Day blog.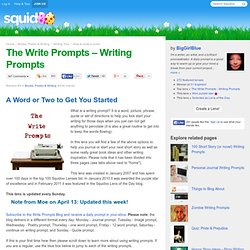 Writers Digest's 101 Best Writing Sites
Click the button to generate new random writing prompts! Writing Prompt: Write occasional poems for weddings, for rivers, for birthdays, for other poets' beauty, for movie stars maybe, for the anniversaries of all kinds of loving meetings, for births, for moments of knowledge, for deaths.
The Blog of Scott Hansen » Overcoming Creative Block
I do not know what to write. I am sitting here staring at the screen, running sentences in my head, and turning my music on and off. Earlier I went foraging for food (in hopes of sparking some magical words), but ended up getting distracted by Arrested Development for 20 minutes. This happens just about every time I sit down to do anything. I'll probably go play the guitar between this paragraph and the next. Of course this is a familiar situation.