Tech Stuff
TED: Ideas worth spreading. Piriform - Download CCleaner, Defraggler, Recuva - Millions of u. Ars Technica. TechCrunch. Slashdot - News for nerds, stuff that matters. GigaOM. Wired News. Beyond The Beyond. What's New With Naomi Klein | Beyond The Beyond. *Rather a lot.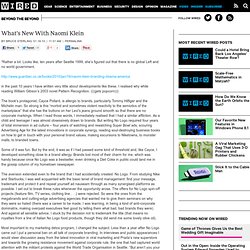 Looks like, ten years after Seattle 1999, she's figured out that there is no global Left and no world government. Boing Boing. Popular Science | New Technology, Science News, The Future Now. Computer Parts, PC Components, Laptop Computers, Di. Gizmodo FR. Le blog des Gadgets. Ubuntu Home Page. Microsoft.com. Microsoft Office Labs. Social bookmarking lets you store, organize, rate, share, and reach your favorite web links from any computer.
Since related links are shared by many people, you can find a lot of what you are looking for on any of these social bookmarking sites. To share Office Labs pages, find the content you want to share, click the Share It button, select the desired social bookmarking site from the list by clicking on the corresponding icon (you will need to create an account or sign-in for each site), and submit the bookmark information.
TechNet: Resources for IT Professionals. FileHippo.com - Download Free Software. THE INQUIRER - Microprocessor, Server, Memory, PCS, Graphics, Ne. The Register: Sci/Tech News for the World. Product reviews and prices, software downloads, and tech news - Free software downloads and software reviews.
The Gates Notes. Social Networking and Theory.
---