Joyce
James Augusta Aloysius Joyce (2 February 1882 – 13 January 1941) was an Irish novelist and poet , considered to be one of the most influential writers in the modernist avant-garde of the early 20th century. Joyce is best known for Ulysses (1922), a landmark work in which the episodes of Homer's Odyssey are paralleled in an array of contrasting literary styles, perhaps most prominent among these the stream of consciousness technique he perfected. Other major works are the short-story collection Dubliners (1914), and the novels A Portrait of the Artist as a Young Man (1916) and Finnegans Wake (1939). His complete oeuvre also includes three books of poetry, a play, occasional journalism, and his published letters.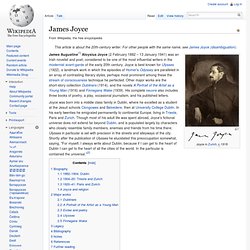 A Portrait of the Artist as a Young Man - Wikipedia, the free en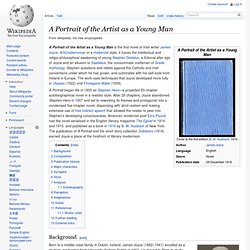 A Portrait of the Artist as a Young Man is a semi-autobiographical novel by James Joyce , first serialised in the magazine The Egoist from 1914 to 1915, and published first in book format in 1916 by B. W. Huebsch , New York. The first British edition was published by the Egoist Press in February 1917.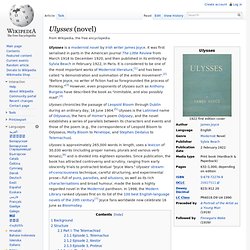 Ulysses is a novel by the Irish author James Joyce . It was first serialised in parts in the American journal The Little Review from March 1918 to December 1920, and then published in its entirety by Sylvia Beach in February 1922, in Paris. One of the most important works of Modernist literature , [ 1 ] it has been called "a demonstration and summation of the entire movement". [ 2 ] "Before Joyce, no writer of fiction had so foregrounded the process of thinking." [ 3 ] Ulysses chronicles the passage of Leopold Bloom through Dublin during an ordinary day, 16 June 1904 (the day of Joyce's first date with his future wife, Nora Barnacle ). [ 4 ] Ulysses is the Latinised name of Odysseus , the hero of Homer 's poem Odyssey , and the novel establishes a series of parallels between its characters and events and those of the poem (e.g., the correspondence of Leopold Bloom to Odysseus, Molly Bloom to Penelope , and Stephen Dedalus to Telemachus ).
Ulysses (novel)
The summer evening had begun to fold the world in its mysterious embrace. Far away in the west the sun was setting and the last glow of all too fleeting day lingered lovingly on sea and strand, on the proud promontory of dear old Howth guarding as ever the waters of the bay, on the weedgrown rocks along Sandymount shore and, last but not least, on the quiet church whence there streamed forth at times upon the stillness the voice of prayer to her who is in her pure radiance a beacon ever to the stormtossed heart of man, Mary, star of the sea. The three girl friends were seated on the rocks, enjoying the evening scene and the air which was fresh but not too chilly.
Ulysses (novel)/Chapter 13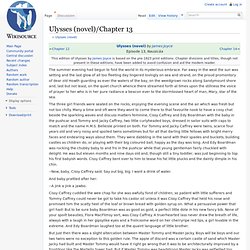 Joyce Images | Nausicaa