Joyce
James Joyce. Joyce was born into a middle class family in Dublin, where he excelled as a student at the Jesuit schools Clongowes and Belvedere, then at University College Dublin.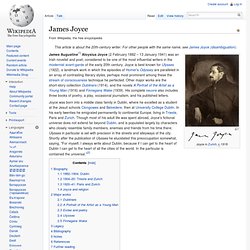 In his early twenties he emigrated permanently to continental Europe, living in Trieste, Paris and Zurich. Though most of his adult life was spent abroad, Joyce's fictional universe does not extend far beyond Dublin, and is populated largely by characters who closely resemble family members, enemies and friends from his time there; Ulysses in particular is set with precision in the streets and alleyways of the city. Shortly after the publication of Ulysses he elucidated this preoccupation somewhat, saying, "For myself, I always write about Dublin, because if I can get to the heart of Dublin I can get to the heart of all the cities of the world. A Portrait of the Artist as a Young Man - Wikipedia, the free en. Background[edit] Born to a middle-class family in Dublin, Ireland, James Joyce (1882–1941) excelled as a student, graduating from University College Dublin in 1902.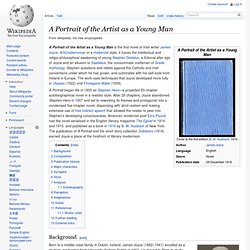 He moved to Paris to study medicine, but soon gave it up. He returned to Ireland at his family's request as his mother was dying of cancer; despite her pleas, the impious Joyce and his brother Stanislaus refused to make confession or take communion, and when she passed into a coma refused to kneel and pray for her. Ulysses (novel) Ulysses is a modernist novel by Irish writer James Joyce.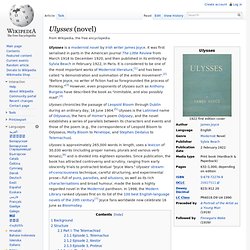 It was first serialised in parts in the American journal The Little Review from March 1918 to December 1920, and then published in its entirety by Sylvia Beach in February 1922, in Paris. It is considered to be one of the most important works of Modernist literature,[1] and has been called "a demonstration and summation of the entire movement".[2] "Before Joyce, no writer of fiction had so foregrounded the process of thinking. Ulysses (novel)/Chapter 13. The summer evening had begun to fold the world in its mysterious embrace.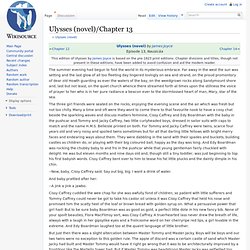 Far away in the west the sun was setting and the last glow of all too fleeting day lingered lovingly on sea and strand, on the proud promontory of dear old Howth guarding as ever the waters of the bay, on the weedgrown rocks along Sandymount shore and, last but not least, on the quiet church whence there streamed forth at times upon the stillness the voice of prayer to her who is in her pure radiance a beacon ever to the stormtossed heart of man, Mary, star of the sea.
The three girl friends were seated on the rocks, enjoying the evening scene and the air which was fresh but not too chilly. Joyce Images | Nausicaa.
---