Music
Rahsaan Roland Kirk - San Francisco - 1973 Dans les années 70, Rahsaan Roland Kirk enchaîne les tournées et les festivals, comme en témoigne les nombreux albums live de cette période. Illustration ce soir avec des extraits de "Bright Moments", qui reprend des concerts donnés au... Le 20h de TSFJAZZ Limousine Après deux albums à la beauté planante et cinématographique le gorupe Limousine est parti en Thaïlande pour enregistrer la suite de ses aventures.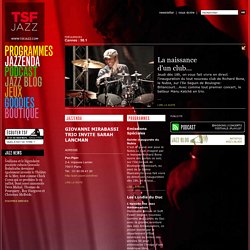 Nogu Svelo - Unie smeshnie golosa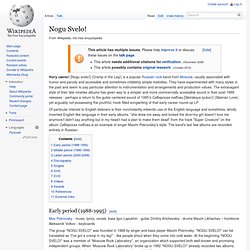 Nogu Svelo!
Ногу свело! [Nogu svelo!] (Cramp in the Leg!) is a popular Russian rock band from Moscow, usually associated with humor and parody and accessible and sometimes childishly simple melodies. They have experimented with many styles in the past and seem to pay particular attention to instrumentation and arrangements and production values. The extravagant style of their late nineties albums has given way to a simpler and more commercially accessible sound in their post-1999 releases - perhaps a return to the guitar-centered sound of 1995's Сибирская любовь [Sibirskaya lyubov'] (Siberian Love), yet arguably not possessing the youthful, hook-filled songwriting of that early-career round-up LP.
The Oud
October 2008