Nice things to listen to
HOLY SHIT, IT'S A FUCKING RAINBOW.
Purdah with Mahmood Fazal – February 19th, 2012 - radio valerie // DIY and freeform internet radio from Melbourne, Australia.
Radio 4 - In Our Time - Homepage
Can you identify a song when it's stripped down to a just few seconds of isolated drum pounding? Your musical wisdom greatly exceeds that of the folks around you. How do you use that power wisely?
All Songs Considered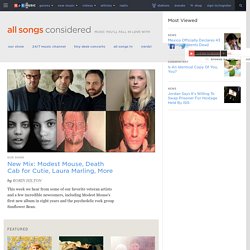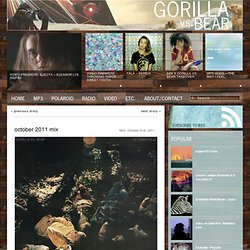 mp3:gorilla vs. bear october 2011 mix (69 mb) [not to be confused with our halloween 2011 mix / right click-save as to download] 01 Glass Candy :: HALLOWEEN 00:00 02 Grimes :: oblivion 03:07 03 Charli XCX :: nuclear seasons 07:12 04 Rangers :: conversations on the jet stream 10:51 05 Azealia Banks :: 212 14:33 06 Major Lazer :: original don (dawn golden and rosy cross remix) 17:50 07 ASAP Rocky :: bass (produced by clams casino) 22:29 08 Korallreven :: sa sa samoa (feat. julianna barwick) 25:27 09 Ford & Lopatin :: i surrender (peaking lights bass ship remix) 29:15 10 Lana Del Rey :: video games (balam acab remix) 34:06 11 Sapphire Slows :: spin lights over you 38:04 12 Sunless '97 :: illuminations 42:29 13 Keep Shelly in Athens :: DIY 46:12 [previous monthly mixes]
october 2011 mix
Gluttony Is The New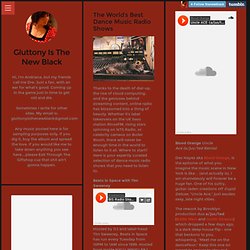 Waldo Kobe's Room Original + Revision [Prod. by Sango] Sadly, I never got a chance to writing about this release when it dropped. Mostly because I was taking a break from music writing at the time. Regardless, the collaboration between the Grand Rapids, MI duo of producer Sango and MC Waldo, titled "Kobe's Room" was one of my favorite tracks of 2013.
Its with a bit of sadness and relief that I announce that Life Aquatic will no longer be an active blog. I guess to a large degree I'm just not inspired the way I used to be to find new music and post it to the world on a regular basis. Another factor would also have to be that I just don't have as much time any more.
Life Aquatic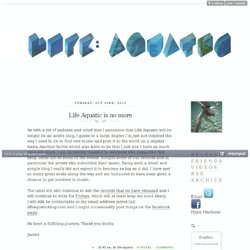 moshi moshi music's sets on SoundCloud
Home
Home
BBC World Service