CLIL
Kindersuchmaschine Trampeltier.de - Suchmaschine für Kinder
Milkmoon: Suchmaschine für Kinder
Spend less time searching and more time finding Are you looking for expertly written, fact checked and professionally edited knowledge? Then Britannica Online is exactly what you have been searching for. Britannica Online has a wealth of reference materials: photos, illustrations, videos, interactive multimedia and country comparison statistics all located in an easy to use website.
Encyclopædia Britannica 30 Day FREE Trial
Here you will find booklets that explain, as simply as possible, what the European Union is and what it does. You can also find maps, posters and postcards and booklets about the EU for young people. Our products are published in 22 official languages of the European Union and can be read in full at this site. If you're looking for information on a specific topic, check our list of topics .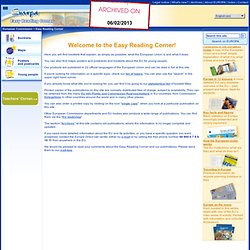 The EU at a glance - Maps
The European Union at a glance
The EU was created in the aftermath of the Second World War. The first steps were to foster economic cooperation: the idea being that countries who trade with one another become economically interdependent and so more likely to avoid conflict. The result was the European Economic Community (EEC), created in 1958, and initially increasing economic cooperation between six countries: Belgium, Germany, France, Italy, Luxembourg and the Netherlands.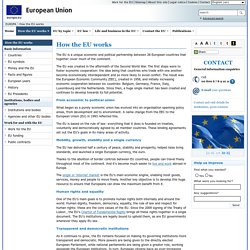 European Youth Portal
European Youth Portal
Online history lessons - history and ICT
You don't have to be a genius to understand the work of the Nobel Laureates. These games and simulations, based on Nobel Prize-awarded achievements, will teach and inspire you while you're having FUN! Blood Typing Game HUMAN BLOOD GROUPS 2012 Winner of the Best Game Category by Swedish Learning Awards. Try it out and learn about human blood types and blood transfusions! Play the Blood Typing Game !