Articles sur l'éducation
Àrticles en ligne abordant différents sujets liés à l'éducation.
Sens du contrôle
Emotions et éducation. Items where Research Institute, Centre or Group is "Centre for Education and Inclusion Research" - Sheffield Hallam University Research Archive. Number of items at this level: 257.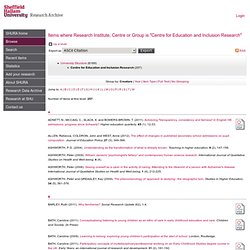 ADNETT, N., MCCAIG, C., SLACK, K. and BOWERS-BROWN, T. (2011). Achieving "transparency, consistency and fairness" in English HE admissions: progress since Schwartz? Motivation extrinsèque vs intrinsèque. Enseignement vs apprentissage. Collaboration. Médias sociaux et pédagogie.
---