Idées recettes
Printer. From the molten yolk and bacon crunch of a hand-held breakfast, to the gooey charm of grilled cheese for lunch, nothing matches the simple pleasures of well-made sandwiches.
They're quick to assemble, infinitely adaptable, easy to eat, and immediately satisfying—the very definition of good food. The 25 sandwiches you're about to meet can be thrown together during the average basketball halftime or, with practice, during the seventh-inning stretch. (Who needs hot dogs, anyway?) Use each recipe as a basic road map, but bring your talent for finding creative routes.
Le Fooding : La Toquéra. Quasi de veau et légumes du moment, par Hugo Desnoyer, Boucherie Hugo Desnoyer*, Paris Pour 8 personnes :- 1 quasi de veau de 2,4 kg- 2,5 kg de légumes du moment mélangés (carottes, betteraves, navets, topinambours, racines de cerfeuil, panais, pommes de terre…)- 1 oignon- 1 tomate- 2 verres de vin blanc- 3 verres de fond de veau- Huile d'olive- Sel, poivre "Faire revenir le quasi de veau sur toutes les faces dans une poêle huilée bien chaude.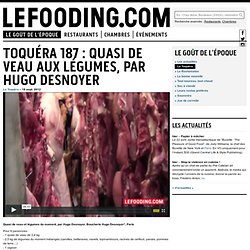 Quand il est bien doré, le réserver dans un grand plat allant au four. Le Fooding : La Toquéra. Living and Raw Foods: Recipe - 20 Simple Juice Recipes. How To Make Fresh Spring Rolls. Tonight's dinner incorporated two ingredients I've never used before…and was quite nervous about using!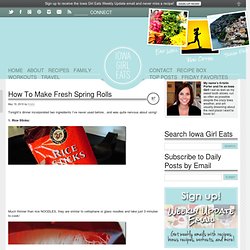 1. Rice Sticks: Much thinner than rice NOODLES, they are similar to cellophane or glass noodles and take just 3 minutes to cook! 2. 2-Minute Chocolate Chip Cookie For One. This is one of those 'I-need-a-cookie-right-now-or-I-die' recipes that can be prepared in almost no time.We all know that kind of situation, don't we?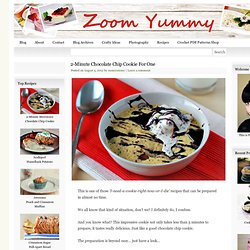 I definitely do, I confess.And you know what? This impressive cookie not only takes less than 5 minutes to prepare, it tastes really delicious. Just like a good chocolate chip cookie.The preparation is beyond easy… just have a look… 40 Hong Kong foods we can't live without. Hong Kongers have a passion reserved just for Hong Kong food that eclipses their love for politics, shopping, gambling, and even -- gasp -- stocks.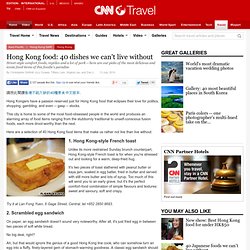 This city is home to some of the most food-obsessed people in the world and produces an alarming array of food items ranging from the stubbornly traditional to unself-conscious fusion foods, each more drool-worthy than the next. Here are a selection of 40 Hong Kong food items that make us rather not live than live without: 18 Slow Cooker Recipes Recipe.
Lobster Mac & Cheese You Can't Beat. Ingredients Cream (half and half), lobster, pasta (semolina [wheat], niacin, iron, thiamine, mononitrate, riboflavin, folic acid), mascarpone cheese (pasteurized milk and cream, citric acid), butter (cream, salt), cheddar cheese (milk, enzymes, salt), parmesan cheese (milk, salt, rennet), panko bread crumbs (wheat flour, water, yeast, dextrose, salt), wheat flour, red onion, water, olive oil, salt, garlic, white pepper, lemon zest, parsley, chives.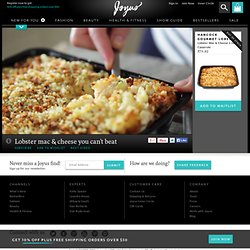 Contains: shellfish, milk, wheat. Made in a facility that uses: egg, soy, tree nuts. Fried Mozzarella. Almost-Famous Orange Milkshake Recipe : Food Network Kitchens.
---