Art
Résultats Google Recherche d'images correspondant à http://www.secondarts.com/images/mouvements_artistiques/popart/Warhol.jpg
Histoire des Arts au collège
Norman Rockwell
v Primary Sources v Norman Rockwell was born in New York City on 3rd February, 1894. According to his biographer, Karal Ann Marling : "The young Norman was skinny and clumsy at sports. He feared the rough neighbourhoods near his family's home on the Upper West Side. Coddled by his mother, Nancy, who boasted of her English heritage and artistic forbears, he also came to resent her imaginary illnesses and spates of religious fervor." Norman's father, Waring Rockwell, worked in the textile industry.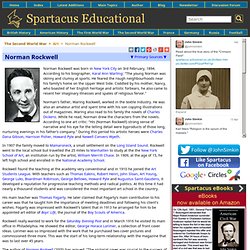 Norman Rockwell - About Norman Rockwell | American Masters
Picture a nation of patriotic citizens unencumbered by want or fear, free to speak their minds and worship as they chose. In a simple room, generations gather for a bountiful Thanksgiving feast. In a dimly lit bedroom, a mother and father tuck their child safely into bed. At a town meeting, a man stands tall and proud among his neighbors.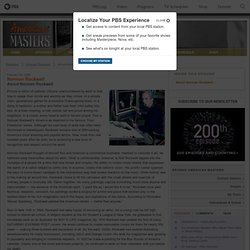 Fifty years after he first started doing work for the magazine, Norman Rockwell was tired of doing the same sweet views of America for the Saturday Evening Post in the early 1960s. The great illustrator was increasingly influenced by his close friends and loved ones to look at some of the problems that was afflicting American society. Rockwell had formed close friendships with Erik Erickson and Robert Coles, psychiatrists specializing in the treatment of children and both were advocates of the civil rights movement. His most profound influence was his third wife, Mary L. "Molly" Punderson, who was an ardent liberal and who urged him in new directions. On December 14, 1963, Rockwell did his last cover for the Saturday Evening Post and he began working for Look magazine.
Norman Rockwell and the Civil Rights Paintings | Everyday Citizen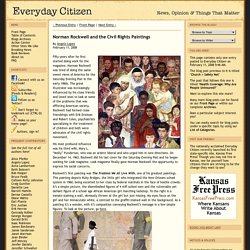 family-guide.pdf (Objet application/pdf)
Norman Rockwell's life... in pictures - anglais
anglais -