Getränke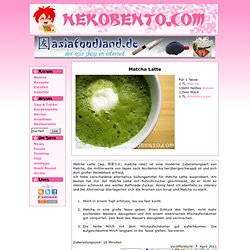 Matcha Latte (jap. 抹茶ラテ, matcha rate) ist eine moderne Zubereitungsart von Matcha, die mittlerweile von Japan nach Nordamerika herübergeschwappt ist und sich dort großer Beliebtheit erfreut. Ich habe verschiedene alternative Süßungsmittel für Matcha Latte ausprobiert. Am besten hat mir der Matcha Latte mit Rohrohrzucker geschmeckt, da er nicht so intensiv schmeckt wie weißer Raffinade-Zucker.
Matcha Latte
Jaja Protesen-Kleber ist ernst gemeint, aber das ist eine längere Geschichte. Aber fangen wir von vorne an. Im Nekobento-Forum wird seit längerem über Bubble-Tea diskutiert. Ein in Asien sehr beliebtes Getränk, das es mit diversen Varianten in Bubble-Tea-Bars gibt, mit Tea/Milch/Fruchtsaft in allen Geschmacksvarianten und darin schwimmenden "Bubbles" Kügelchen in allen Bonbon-Farben. In Deutschland beginnt der Hype gerade und es gibt bereits Bars in einigen Städten, durchaus auch befeuert von den Medien. So gab es bei Galileo letztens einen Beitrag der erklärte was denn da im Bubble Tee herumschwimmt.
DIY Bubble Tea 1 - grüner Tee mit Kirsch Kaviar oder was hat Popping Boba mit Sphärifizierung und Protesenkleber zu tun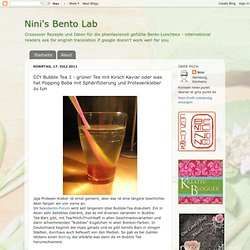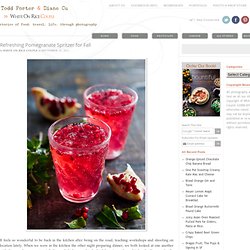 Pomegranate Recipes | Pomegranate Spirtzer
It feels so wonderful to be back in the kitchen after being on the road, teaching workshops and shooting on location lately. When we were in the kitchen the other night preparing dinner, we both looked at one another with the same hungry, yet satisfied eyes. It feel so good to be back here in our home kitchen feeding our family and friends. Unfortunately we didn't take the time to photograph any of it to share with you on the blog! The garden always look different in the time that we're away.