Craft
Make a Friendship Bracelet the Easy Way.
Clothing. Knitting and crochet. Fabric Covered Boxes | Mallory Paige. If you're new here, you may want to subscribe to get updates, freebies and all sorts of goodness .
Thanks for visiting! Looking for a pretty way to organize? Or perhaps you want a knockout gift box? Well, look no further than these fabric covered boxes. Girly duct tape wallet/clutch. At the base of this wallet are two sheets of duct tape.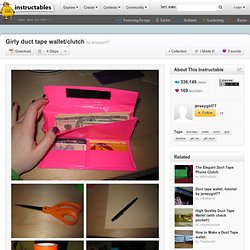 I've found that the easiest way to make one of these sheets is to start with a piece of loose leaf and cover that in duct tape on both sides. that way you can get nice straight lines. It also adds a bit more stability. Crafty, Scrappy, Happy: Cutting glass. Make-and-do-girl-Circle-Art. TUTORIAL: Coffee Stirrer DIY Wall Art - makeanddogirl.com. Last week, I posted a preview of the simple, inexpensive wall art my mom and I created.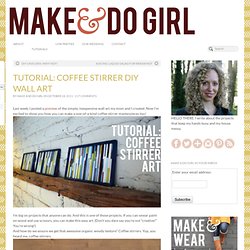 Now I'm excited to show you how you can make a one-of-a-kind coffee stirrer masterpieces too! I'm big on projects that anyone can do. And this is one of those projects. If you can smear paint on wood and use scissors, you can make this easy art. (Don't you dare say you're not "creative!" Recycle Tutorial: Woven Rag Rug. Thank you for all the great feedback for liking my Braided Rag Rug.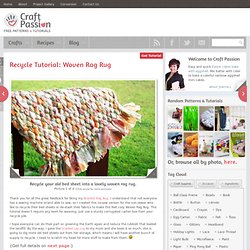 I understand that not everyone has a sewing machine or/and able to sew, so I created this no-sew version for the non-sewer who like to recycle their bed sheets or de-stash their fabrics to make this feet cozy Woven Rag Rug. This tutorial doesn't require any loom for weaving; just use a sturdy corrugated carton box from your recycle pile. I hope everyone can do their part on greening the Earth again and reduce the rubbish that loaded the landfill. By the way, I gave the braided rag rug to my mum and she loves it so much, she is going to dig more old bed sheets out from her storage, which means I will have another bunch of supply to recycle.
DIY : Sailor's Knot Bracelet. Flashback: Woven Map Basket. Maps can be amazing design elements, with all their intricately drawn lines and minute details.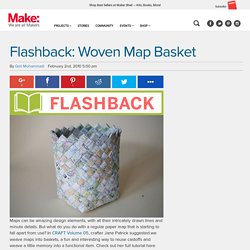 But what do you do with a regular paper map that is starting to fall apart from use? In CRAFT Volume 05, crafter Jane Patrick suggested we weave maps into baskets, a fun and interesting way to reuse castoffs and weave a little memory into a functional item. Check out her full tutorial here and pick up a back issue of CRAFT Volume 05, the Paper issue, in the Maker Shed.Woven Memory Basket Weave your vacation road maps into an attractive souvenir. By Jane Patrick Think of basketry as three-dimensional weaving. Rollie Pollie! Looking for hours of entertainment?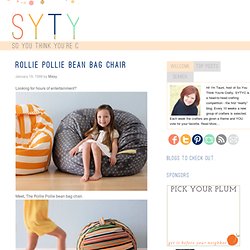 Meet, The Rollie Pollie bean bag chair. It's a chair, it's a toy, it's your favorite pillow. Made of durable cotton twill or soft vinyl, each bag is actually a slip cover (with another Rollie Pollie inside) then filled with mounds and mounds of soft cluster stuffing. So if it gets dirty, just zip it off and throw it in the wash. And with a handle on top, it's easy to toss around. DIY scarf bag (Hermes Knotting Cards) (topshop dress, asos cuff) I've always been attracted to beautiful scarves, but I usually do the same old thing… simply wrap them around my head.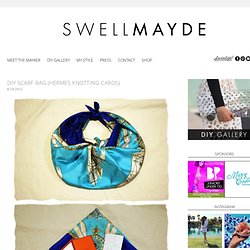 Last Christmas, I received these Hermes Knotting Cards that teach you an endless amount ways to accessorize with a scarf. They are so inspiring! Guest blogger - Sasha from The Guilded Bee: Here's another DIY project from our sweet friend, Sasha - from the The Gilded Bee.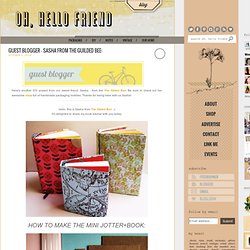 Be sure to check out her awesome shop full of handmade packaging lovelies. Thanks for being here with us Sasha! DIY Friendship Bracelet. For several months now, we've been receiving emails requesting a friendship bracelet DIY.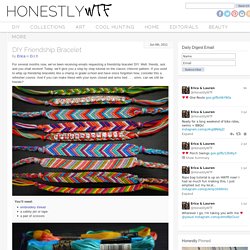 Well, friends, ask and you shall receive! Today, we'll give you a step by step tutorial on the classic chevron pattern. If you used to whip up friendship bracelets like a champ in grade school and have since forgotten how, consider this a refresher course. And if you can make these with your eyes closed and arms tied . . . umm, can we still be friends? You'll need:embroidery threada safety pin or tapea pair of scissors. DIY Braided Bead Bracelet. It's been awhile since our last bracelet DIY.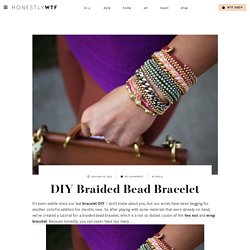 I don't know about you, but our wrists have been begging for another colorful addition for months now. So after playing with some materials that were already on hand, we've created a tutorial for a braided bead bracelet, which is a not so distant cousin of the hex nut and wrap bracelet. Simply Vintagegirl Blog » Blog Archive » Tutorial: How to Make Lovely Fabric Flowers. 29 May 2010 These elegant fabric flowers are very simple to make . . . and only take a few basic supplies. The finished product is delightfully lovely, and at times can look like a real flower! Every flower will turn out differently and that is part of the beauty! If you haven't used those tea lights in a while, now's the time! How To Make a String Tree Wall Mural Home Hacks | Apartment Therapy Re-Nest.
Previous image Next image This impressive mural (along with a few others) were made by artist Kathryn Anderson with nothing more than pushpins and yarn. We'll show you how you can create your own, step by step and with tips from the artist.Kathryn Anderson of KAndeArt has made some great wall murals out of nothing more than string and push pins. Here are her steps to creating a beautiful and unique murals from string. What You Need. Print Hula Hoop Rug Page | Crafts. This photo originally appeared in FamilyFun Magazine Total Time 2 to 3 hours Ages school-age What does it take to transform a pile of old T-shirts into spectacular works of woven art? Just a spare hula hoop or embroidery hoop and the techniques we'll show you here.
---