Tuition
2010 - 2011 Tuition and Fee Schedule | Mannes College for Music Extension
Manhattan School of Music: Cost of Attendance
The page you are looking for might have been removed, had its name changed, or is temporarily unavailable. Please try the following: Make sure that the Web site address displayed in the address bar of your browser is spelled and formatted correctly. If you reached this page by clicking a link, contact the Web site administrator to alert them that the link is incorrectly formatted.
Tuition & Financial Aid: Admissions & Financial Aid: Jacobs School of Music: Indiana University Bloomington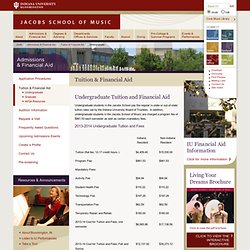 Tuition & Financial Aid Undergraduate Tuition and Financial Aid Undergraduate students in the Jacobs School pay the regular in-state or out-of-state tuition rates set by the Indiana University Board of Trustees. In addition, undergraduate students in the Jacobs School of Music are charged a program fee of $942.68 each semester as well as certain mandatory fees.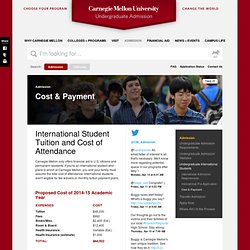 When considering the cost of higher education, you'll want to consider the overall cost of attendance, not only the cost of tuition. The cost of attendance is comprehensive and gives families a more realistic cost including tuition, fees, room and board, books and a transportation estimate. The other important factor to consider is the availability of financial aid when considering the cost of attending a particular institution. Proposed Cost of 2013-14 Academic Year Fill out the Financial Aid Estimator Form to receive an estimate of your financial aid eligibility. Notes
Admission > Costs
www.rochester.edu/adminfinance/bursar/PDFs/ESMUGCharges1112.pdf
Welcome to Rice. Here, you will discover a place that is passionate about teaching, undergraduate research and leadership development. We are a diverse community and support a student body from all economic backgrounds. Set in the heart of the nation's fourth-largest city, Rice is a comprehensive research university that fosters diversity and an intellectual environment that produces leaders across the spectrum of human endeavor. Consistently ranked among the best values in higher education, with a highly recognized and respected residential college system, Rice transforms outstanding students into global scholars who envision new possibilities and leave their imprint on the world. Professors in the News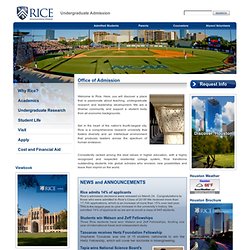 Future Owls
Fees
Fees and Funding | Royal College of Music
Request a Prospectus | Royal College of Music