Tuition
2010 - 2011 Tuition and Fee Schedule | Mannes College for Music Extension. The office of the university registrar manages course registration and student records, including recording grades, certifying completion of graduation requirements, issuing transcripts, and administering a wide range of academic policies and procedures.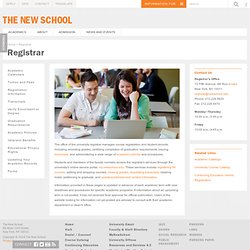 Students and members of the faculty normally access the registrar's services through the university's online service portal, my.newschool.edu. These services include registering for courses, adding and dropping courses, viewing grades, requesting transcripts, clearing holds, petitioning to graduate, and updating address and contact information. Tuition & Financial Aid: Admissions & Financial Aid: Jacobs School of Music: Indiana University Bloomington. Tuition & Financial Aid Undergraduate Tuition and Financial Aid Undergraduate students in the Jacobs School pay the regular in-state or out-of-state tuition rates set by the Indiana University Board of Trustees.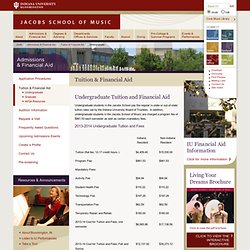 In addition, undergraduate students in the Jacobs School of Music are charged a program fee of $961.53 each semester as well as certain mandatory fees. Admission > Costs. Carnegie Mellon only offers financial aid to U.S. citizens and permanent residents.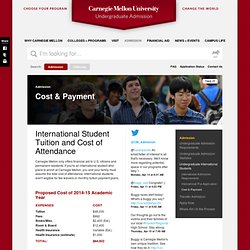 If you're an international student who plans to enroll at Carnegie Mellon, you and your family must assume the total cost of attendance. International students aren't eligible for fee waivers or monthly tuition payment plans. Proposed Cost of 2014-15 Academic Year International students enrolling at Carnegie Mellon must submit a completed Certification of Finances form and supporting documents that indicate his or her family or sponsor will have sufficient funds to cover tuition, room and board, and living expenses at Carnegie Mellon only after a student has been admitted to Carnegie Mellon and has chosen to matriculate. Fill out the International Pre-Application to begin the process with Carnegie Mellon.
Www.rochester.edu/adminfinance/bursar/PDFs/ESMUGCharges1112.pdf. Future Owls. Welcome to Rice.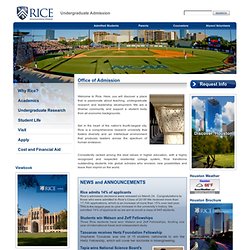 Here, you will discover a place that is passionate about teaching, undergraduate research and leadership development. We are a diverse community and support a student body from all economic backgrounds. Set in the heart of the nation's fourth-largest city, Rice is a comprehensive research university that fosters diversity and an intellectual environment that produces leaders across the spectrum of human endeavor. Consistently ranked among the best values in higher education, with a highly recognized and respected residential college system, Rice transforms outstanding students into global scholars who envision new possibilities and leave their imprint on the world. Rice admits 14% of applicants.