Recepies
Italian Garlic Knots Recipe from Pillsbury.com. 100 Best Holiday Cookie Recipes | MyRecipes.com - StumbleUpon. Cruft: Lasagna Cupcakes - StumbleUpon. When Intelligentsia Coffee opened in Pasadena recently, I was intrigued the lasagna cupcakes they served.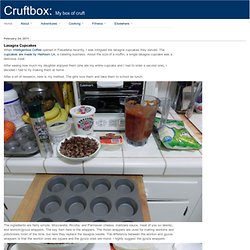 The cupcakes are made by Heirloom LA, a catering business. About the size of a muffin, a single lasagna cupcake was a delicious meal. After seeing how much my daughter enjoyed them (she ate my entire cupcake and I had to order a second one), I decided I had to try making them at home. After a bit of research, here is my method.
The girls love them and take them to school as lunch. Cinamon toast rolls. Circle B Kitchen a dozen or so slices of very soft, fresh white breadmelted buttercinnamon sugar Preheat the oven to 375 degrees.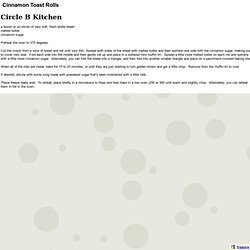 Bite-Sized Cherry &Strawberry "Pop Tarts" Sometimes it's the little things.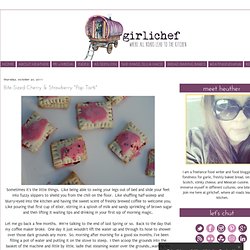 Like being able to swing your legs out of bed and slide your feet into fuzzy slippers to shield you from the chill on the floor. Like shuffling half-asleep and blurry-eyed into the kitchen and having the sweet scent of freshly brewed coffee to welcome you. Like pouring that first cup of elixir, stirring in a splosh of milk and sandy sprinkling of brown sugar and then lifting it waiting lips and drinking in your first sip of morning magic. Craving: Red Velvet Brownies - freutcake | freutcake - StumbleUpon. This weekend I temporarily lost my baking mojo.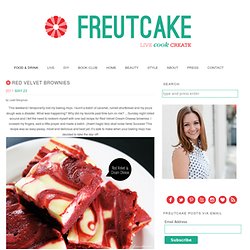 I burnt a batch of caramel, ruined shortbread and my pizza dough was a disaster. What was happening? Why did my favorite past time turn on me? …Sunday night rolled around and I felt the need to redeem myself with one last recipe for Red Velvet Cream Cheese brownies. I crossed my fingers, said a little prayer and made a batch. Pumpkin Cinnamon Rolls Recipe | My Baking Addiction - StumbleUpon. If you happen to read MBA on a regular basis, you may remember me discussing my fear of yeast and my attempt to conquer that fear with the help of Amber from Bluebonnets and Brownies.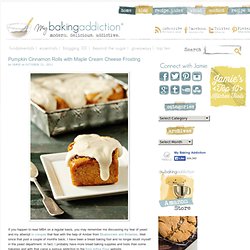 Well since that post a couple of months back, I have been a bread baking fool and no longer doubt myself in the yeast department. In fact, I probably have more bread baking supplies and tools than some bakeries and with that came a serious addiction to the King Arthur Flour website. Since I'm no longer a yeast novice, you can imagine how excited I am to flaunt my newly developed skills for this week's Holiday Recipe Exchange sponsored by Red Star Yeast. As soon as we gained Red Star Yeast as a sponsor, I knew exactly what I was going to make – Pumpkin Cinnamon Rolls. 50 Holiday Cookies : Recipes and Cooking. Peanut Butter Ice Cream Shake - Healthy Recipe Finder | Mens Health. 25 Days of Christmas Cookies Christmas at Epicurious.com - StumbleUpon.
---