poetry
Get flash to fully experience Pearltrees
It starts out as a little twinge A small thing that offsets the mood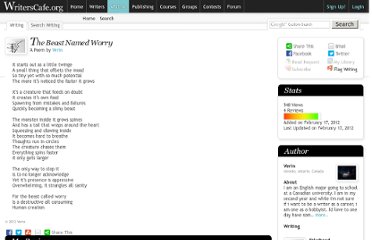 The Dream I dreamed that you had ceased to love me— not that you had come from other beds back to mine, or gone from mine to others, just that something in your heart had stopped. I willed myself awake to find you still beside me.
the countdown/he has been set free I am a man I was a child but once the doorway was opened I pursued I do not do ritualistic things that would intentionally go against my Creator's design "What is the Creators design you might say, and how do you know this?" those questions are answered very easily
I walk tonight.
The server encountered an internal error or misconfiguration and was unable to complete your request. Please contact the server administrator, webmaster@xijindustries.koukouvaya.co.uk and inform them of the time the error occurred, and anything you might have done that may have caused the error.
Dark rain falls tonight On a skin, cold as ice
I Don't Remember... I don't remember, any more, The exact shape of your hands As I held them in mine, Caressed them, Memorized the length of your fingers, The depth of your calluses.