Things I Didn't Know Were Things
Translation Telephone. Ever played the "Telephone" game, where you send a message around a circle of people & see how it turns out?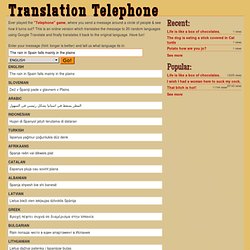 This is an online version which translates the message to 20 random languages using Google Translate and finally translates it back to the original language. Have fun! The rain in Spain falls mainly in the plains Dež v Španiji pade v glavnem v Plains.
Supernatural Registration Authority. I Can't Find My Phone. Lolwut. My Best Friends MADE Episode. When a HP Fan Goes Too Far...