Resturant Reviews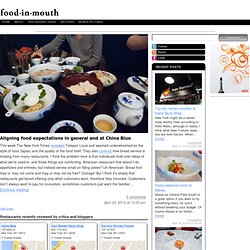 In a short while, I'm going to get to the favorite meal that Steph and I had in Paris last summer. But first I want to point out that everyone's favorite and most romantic city in the world has public, outdoor peeing stations. See that thing in the picture?
On Restaurants, Dining, Streetfood, and a truthy voice on food blogging - Food in Mouth
Snapshots from dinner at Jewel Bako in the East Village where the $65 sushi omakase is an excellent deal. I counted 17 pieces of sushi in total... ...including this ridiculous Uni Cup. Rice at the bottom, and then five tongues piled one atop another with a grilled scallop tucked in on the side. The top layer of uni is quickly brûléed with a blowtorch, making it all smokey and the slightest bit crisp. Clearly, uni + scallop is a unbeatable pairing.
A Passion For Food
This is a list of restaurants I ate. My definition of restaurants would be a place that has waiters that dealt with my every whim; budget ranges from low to high end. The cuisine that the restaurant serves are next to its name. Just click the number or location to get the post. They are in alphabetical order and in chronological order.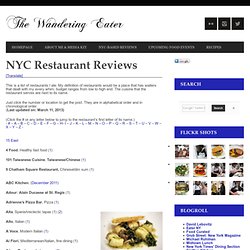 NYC Restaurant Reviews
The Graphic Foodie