Ressources tests
Réseau Québécois de Recherche sur le Vieillissement. Historique Objectifs Stratégiques Programmation scientifique détaillée Regroupements thématiques Plateformes communes de recherche sur le vieillissement Initiatives stratégiques.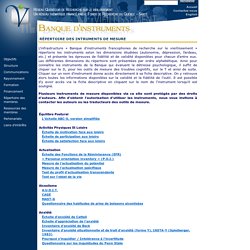 Tests. Catalogue creapsy 2008 - Fourni par Google Documents. Autism Research Centre - Tests. The mission of the ARC is to understand the biomedical causes of autism spectrum conditions, and develop new and validated methods for assessment and intervention.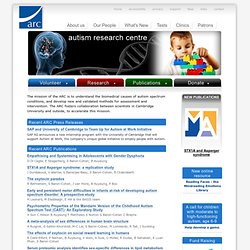 The ARC fosters collaboration between scientists in Cambridge University and outside, to accelerate this mission. Recent ARC Press Releases SAP and University of Cambridge to Team Up for Autism at Work Initiative. PICS Image Data Base. Welcome To The Psychological Image Collection at Stirling (PICS) Psychology Department, University of Stirling You are visitor number at this site.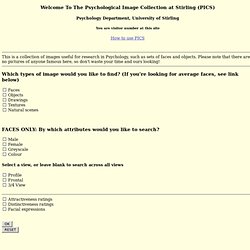 Cv. Curriculum Vitae Frédéric GosselinDépartement de psychologieUniversité de Montréal C.P. 6128, succ.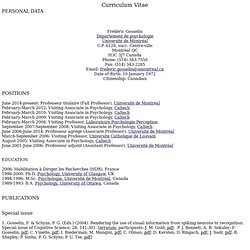 Centre-ville Montréal QC H3C 3J7 Canada Phone: (514) 343-7550 Fax: (514) 343-2285 Email: frederic.gosselin@umontreal.ca Date of Birth: 10 January 1972 Citizenship: Canadian June 2014-present: Professeur titulaire (Full Professor), Université de Montréal. Radboud Faces Database. Intelligent Systems Lab,RPI. Autism Information -Theory of Mind resources. I found some resources to test Theory of Mind: - Heider and Simmel's classic test.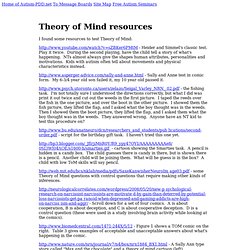 Do2Learn: Educational Resources for Special Needs. Young children's difficulty on the Children's Gambling Task: Complexity or Variability of Losses? (2008), 2008 [Andrews, Glenda, Bunch, Katie Maree, Tolliday, Elise Louise] Young children's difficulty on the Children's Gambling Task: Complexity or Variability of Losses?
(2008) Andrews, Glenda , Lab instruments and medical equipment. Cogniscience. L'activité du groupe Cognisciences porte sur l'étude des processus du développement, d'acquisition et d'apprentissage du nourrisson à l'enfant.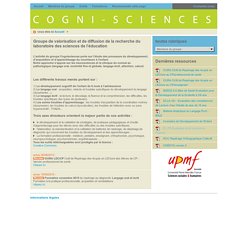 Notre approche s'appuie sur les neurosciences et la clinique du normal au pathologique (langage oral, motricité fine et globale, langage écrit, attention, calcul) Les différents travaux menés portent sur : 1) Le développement cognitif de l'enfant de 6 mois à l'adolescence 2) Le langage oral : acquisition, retards et troubles spécifiques du développement du langage (dysphasies...). Journal of Neurobehavioral Experiments and Stimuli.
---