Python
Get flash to fully experience Pearltrees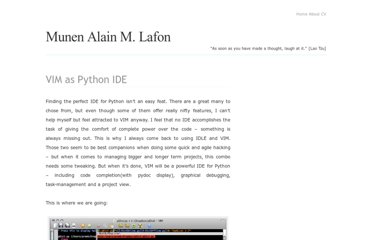 Finding the perfect IDE for Python isn't an easy feat.
Since my Cherokee patch, I've been playing around with NSIS , the Windows tool for building installers. One of my obsessions with software is that entry barriers should be as low as possible in order to have a successful product and let people enjoy with it.
6 Nov 2009 | Escrito por: lopz | En: Python
Esta publicación no tendrá mucho valor para quienes saben de Python o se dedican al desarrollo en este lenguaje. Para quienes no se encuentren en este grupo, quizás se sorprendan tanto como yo con la simplicidad con que Python maneja las cadenas de texto. A continuación, veremos algunos métodos del objeto string en Python a través de ejemplos muy sencillos.
Cómo usar y aprovechar el soporte de Unicode que Python trae de serie.