Agencies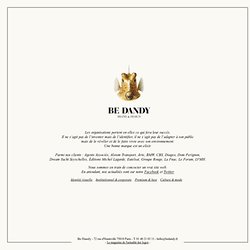 Les organisations portent en elles ce qui fera leur succès. Il ne s'agit pas de l'inventer mais de l'identifier, il ne s'agit pas de l'adapter à son public mais de le révéler et de le faire vivre avec son environnement. Une bonne marque est un elixir. Parmi nos clients : Agents Associés, Alstom Transport, Arte, BMW, CBS, Diageo, Dom Perignon, Dream Yacht Seyschelles, Éditions Michel Lagarde, Eutelsat, Groupe Rouge, La Fnac, Le Forum, LVMH.
Agence communication institutionnelle et luxe, création d'identités visuelles et textuelles
NERD COMMUNICATIONS FACTSHEET NERD COMMUNICATIONS Nerd Nerdcommunications Nerdfilms in a nutshell. Born in 2007. Mother, embassy of dreams, one of Germany's biggest advertising film-production companies. Father, a strong belief that, once people switch off their TV, a higher form of communication between brands and consumers can arise. Nerdfilms was raised in Berlin and fed by the trust that agencies like DDB, JvM, Scholz and many more put into it. Why go nerd?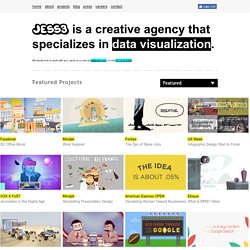 January 31, 2013 JESS3's Coachella Infographic Featured on The Huffington Post The Huffington Post's Los Angeles vertical spotlighted "Coachella by the Likes," JESS3's infographic examining Coachella's roster by number of "Likes" each band has on Facebook. We matched the number of Facebook fans per musical act with their graphic presence on the annual Coachella lineup poster. Making use of the Facebook-liking, data-driven generation, the resulting visualization triggered insightful discoveries about the festival's lineup. The Huffington Post used our findings to surmise whether "Coachella's iconic poster [does] justice to the most popular acts when it comes to prominence and font size."
Bridge Worldwide – A Leading Digital and Relationship Marketing Agency. Voted One of the Best Places to Work in America.
Perfect Fools
Rabbids debut in TV! France 3 is who welcomes in its youth programsMonLudo To illustrate this "landing" Rabbits in our world, we have implemented a set in their image: Around the World in Slip! Present both on the monludo.fr website for young people of France 3 and their fanpage (by Ubisoft) for historical fans, this [...] Creating an initiatory route trough Laketop lands, a small New Zealand town with sublime and disturbing scenary The TB 303 is really useless so we invite you to try the Rayman Beatbox.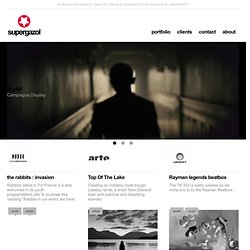 playgrnd*
.::: LA CHOSE :::.