Agencies
Agence communication institutionnelle et luxe, création d'identités visuelles et textuelles
Si Twitter est une grande source d'information, c'est également un lieu important de création de contenu. Certains préfèrent s'exprimer, s'instruire, ou favoriser l'interaction et le débat. Les informations circulent vite, les bad buzz aussi. Pour les marques, le réseau social est un terrain glissant, qu'il faut emprunter avec parcimonie. Si ce peut être l'occasion d'échanger avec ses clients différemment, il faut tout de même de solides Community Managers pour gérer les critiques.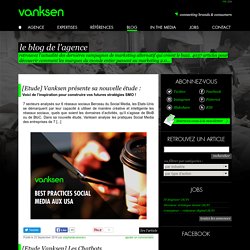 numéro10 - agence publicité berne suisse - branding communication buzz viral guerilla social media - accueil
NERD COMMUNICATIONS FACTSHEET NERD COMMUNICATIONS Nerd Nerdcommunications Nerdfilms in a nutshell. Born in 2007. Mother, embassy of dreams, one of Germany's biggest advertising film-production companies. Father, a strong belief that, once people switch off their TV, a higher form of communication between brands and consumers can arise. Nerdfilms was raised in Berlin and fed by the trust that agencies like DDB, JvM, Scholz and many more put into it. Why go nerd?
Bridge Worldwide – A Leading Digital and Relationship Marketing Agency. Voted One of the Best Places to Work in America.
ACCUEIL
You above all - Mullen's first for JetBlue
Team Epiphany
Perfect Fools
playgrnd*
.::: LA CHOSE :::.