Chicken
Feta-Stuffed Chicken Breasts. Feta-Stuffed Chicken Breasts Ingredients tablespoon snipped dried tomatoes (not oil-packed) skinless, boneless chicken breast halves (1 to 1-1/2 pounds total)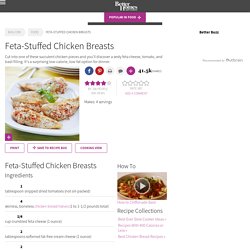 Holy Yum Chicken. If you have never made anything from my blog, drop everything and make this for dinner tonight.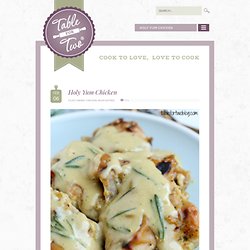 I'm telling you, YOU.WILL.NOT.REGRET.IT. I've made this chicken 3 times already. 3 times in ONE WEEK. I'm completely, utterly, addicted to it. It's the EASIEST recipe, EVER and the tastiest. Chinese Orange Chicken. Not even Panda Express can beat this homemade orange chicken!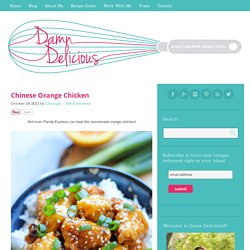 Today was just one of those days. My photography shoot went awry. I burned myself when frying an egg. There was an ant party in my kitchen trash. I hit the worst kind of traffic on a Saturday afternoon for a 3 mile drive. MyPanera. Orange Chicken Recipe. Today I'm back with yet another Chinese-American dish – Orange Chicken.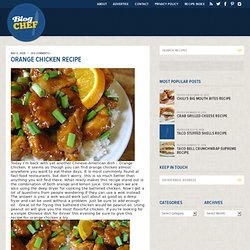 It seems as though you can find orange chicken almost anywhere you want to eat these days. It is most commonly found at fast food restaurants, but don't worry, this is so much better than anything you will find there. What really makes this recipe stand out is the combination of both orange and lemon juice. Once again we are also using the deep dryer for cooking the battered chicken. Now I get a lot of questions from people wondering if they can use a wok instead. Chicken and Asparagus Crepes Recipe : Food Network Kitchens. Ingredients 3 tablespoons unsalted butter, plus more for the dish 2 1/2 cups shredded rotisserie chicken 1 1/2 cups ricotta cheese 3/4 cup grated parmesan cheese, plus more for serving 1/4 cup chopped fresh herbs (such as parsley, dill, chives or mint) Kosher salt and freshly ground pepper 8 store-bought crepes (about 9 inches each) 1 shallot, sliced 1/2 pound asparagus, trimmed and cut into pieces 3/4 cup low-sodium chicken broth 1 teaspoon finely grated lemon zest Directions Preheat the oven to 425 degrees F.
Butter a large baking dish. Combine the chicken, ricotta, 1/2 cup parmesan, 3 tablespoons herbs, 3/4 teaspoon salt and 1/2 teaspoon pepper in a medium bowl. Coconut Crusted Chicken Tenders. I am over the moon with coconut.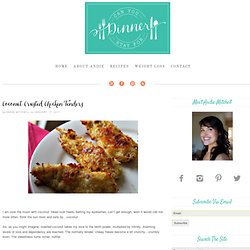 Head over heels, batting my eyelashes, can't get enough, wish it would call me more often, think the sun rises and sets by…coconut. So, as you might imagine, toasted coconut takes my love to the tenth power, multiplied by infinity. Alarming levels of love and dependency are reached. The normally tender, chewy flakes become a bit crunchy…crumbly even.
Chicken Breasts Sauteed in Butter [Supremes de Volaille a Brun] Yep, it's Thursday, and I normally post something for Thrifty Thursday.
However, I have decided to stop hosting TT as there just isn't any participation. :( Oh sure, I'll still post some thrifty ideas or finds when I come across them, but I'm not nailing myself down to a weekly post anymore. I did it for almost 6 months and had hoped for more participation, but alas, it is what it is. So therefore, today I am going to share with you another Julia Child recipe from Mastering the Art of French Cooking. If it hadn't been for the premier of the new movie, Julie & Julia, coming out on Friday, chances are I would never have even opened this book. Mediterranean Chicken. Absolutely delicious!
The pictures of this fabulous chicken dish are awful, so I apologize in advance. While the pics don't do it justice, I can tell you that the flavors in this dish all play off of each other so well, and it smells so good while it was cooking. I served it with some vegetable rice and ate every morsel of the yummy sauce. Poultry. Chicken in Walnut Sauce.
Other than Asian dishes, I haven't experimented much with nuts in cooking.
Baking yes, of course, but not in savory dishes. The title of the recipe intrigued me immediately. Baked Chicken with Parmesan and Herbs. This chicken has just the right amount of zesty flavor from the Dijon mustard, and coated with panko bread crumbs and fresh herbs, this is an easy dinner to please the masses.
I love that extra crunch from the panko bread crumbs, and inside waits juicy tender chicken. Mmm! I originally found this recipe on the FamilyCorner message boards.
---