Scala test
scct - Scala Code Coverage Tool
Eh? scct is a code coverage tool for Scala. News Dec 9, 2012 Support for scala 2.10.0-RC3 and (hopefully) up.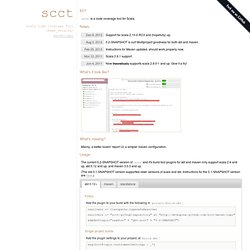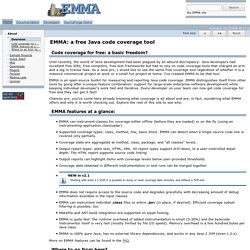 Until recently, the world of Java development had been plagued by an absurd discrepancy: Java developers had excellent free IDEs, free compilers, free test frameworks but had to rely on code coverage tools that charged an arm and a leg in license fees. As a Java pro, I would like to use the same free coverage tool regardless of whether it is a massive commercial project at work or a small fun project at home. I've created EMMA to be that tool. EMMA is an open-source toolkit for measuring and reporting Java code coverage.
EMMA: a free Java code coverage tool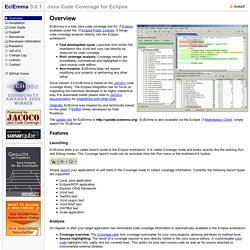 EclEmma - Java Code Coverage for Eclipse
EclEmma is a free Java code coverage tool for Eclipse, available under the Eclipse Public License. It brings code coverage analysis directly into the Eclipse workbench: Fast develop/test cycle: Launches from within the workbench like JUnit test runs can directly be analyzed for code coverage. Rich coverage analysis: Coverage results are immediately summarized and highlighted in the Java source code editors. Non-invasive: EclEmma does not require modifying your projects or performing any other setup. Since version 2.0 EclEmma is based on the JaCoCo code coverage library.
Cobertura
Open Source Code Coverage Tools in Java