Creation site web
Visite
C'est gratuit ! Utilisez le service sans rien débourser ! Aucun paiement ne vous est demandé pour accéder au CMS. Zéro code Adapté à tout le monde, que vous soyez un développeur confirmé ou un simple utilisateur, il vous suffit d'imbriquer les modules, Glustr, c'est comme les lego, c'est facile !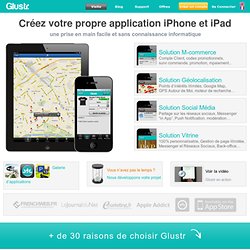 Prestashop, un logiciel gratuit converti en poule aux œufs d'or
80 % des nouveaux modules de Prestashop sont créés par ses 300 000 membres À l'origine de Prestashop, deux passionnés de l'e-commerce, Igor Schlumberger et Bruno Lévêque. Ils lancent en 2007 un logiciel gratuit permettant de réaliser facilement un site marchand. Ils misent sur l'open source : le code source du logiciel est accessible à tous les utilisateurs qui apportent des modifications et des améliorations à l'outil et paient uniquement des modules annexes.
Générateur de sites web
Wix is a do-it-yourself website builder: a free online tool that lets you create and customize your own websites. Built with a powerful, user-friendly interface, Wix give you total control over your web design without knowing the first thing about fancy coding or programming. Explore what others have made using Wix. Or jump right in and create your own.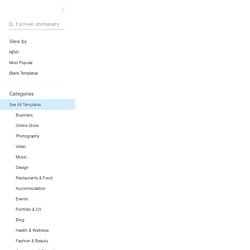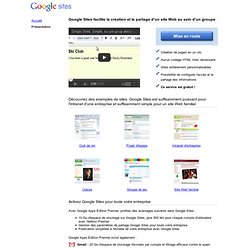 Création de pages en un clic Aucun codage HTML n'est nécessaire Sites entièrement personnalisables Possibilité de configurer l'accès et le partage des informations Ce service est gratuit ! Découvrez des exemples de sites. Google Sites est suffisamment puissant pour l'intranet d'une entreprise et suffisamment simple pour un site Web familial. Activez Google Sites pour toute votre entreprise Avec Google Apps Édition Premier, profitez des avantages suivants dans Google Sites : 10 Go d'espace de stockage sur Google Sites, plus 500 Mo pour chaque compte d'utilisateur avec l'édition Premier Gestion des paramètres de partage Google Sites pour toute votre entreprise Publication simplifiée à l'échelle de votre entreprise avec Google Sites
Sites
WEB ACAPPELLA - Logiciel de création de site Internet