Mobile Marketing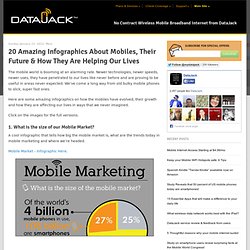 The mobile world is booming at an alarming rate. Newer technologies, newer speeds, newer uses, they have penetrated to our lives like never before and are proving to be useful in areas never expected. We've come a long way from old bulky mobile phones to slick, super fast ones.
20 Amazing Infographics About Mobiles, Their Future & How They Are Helping Our Lives
BBC iPlayer - Divine Women: Handmaids of the Gods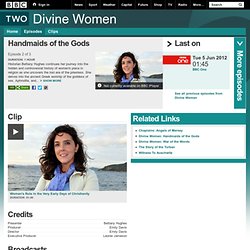 Historian Bettany Hughes continues her journey into the hidden and controversial history of women's place in religion as she uncovers the lost era of the priestess. She delves into the ancient Greek worship of the goddess of sex, Aphrodite, and finds out what this practice meant for women. She also heads to ancient Rome, where the fate of the civilisation lay in the hands of six sacred virgins.
Statistics: The Growth Of Mobile Into 2011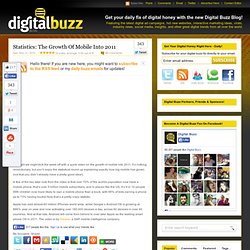 I thought we might kick the week off with a quick video on the growth of mobile into 2011, it's nothing revolutionary, but you'll enjoy the statistical round up explaining exactly how big mobile has grown (not that you didn't already have a pretty good idea!). A few of the key take outs from the video is that over 70% of the worlds population now have a mobile phone, that's over 5 billion mobile subscribers, and in places like the US, it's 9 in 10 people. With children now more likely to own a mobile phone than a book, with 85% of kids owning a phone as to 73% having books! Now that's a pretty crazy statistic. Apple has sold almost 60 million iPhones world wide, while Google's Android OS is growing at 886% year on year and now activating over 160,000 devices a day, across 60 devices in over 40 countries. And at that rate, Android will come from behind to over take Apple as the leading smart phone OS in 2011.
February 02, 2012 -- By Justin Our friends over at Inneractive have published their latest infographic dubbed "From Barcelona to Barcelona: the Growth of Mobile Advertising in 2011." As the mobile world gears up for Mobile World Congress in Barcelona, Inneractive decided to take a look back at the continued massive growth of the industry in terms of everything from mobile ad clicks to revenue, platforms, and regions that saw the most growth. The full infographic is embedded below, and also available here.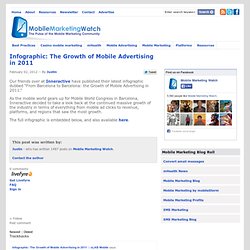 Infographic: The Growth of Mobile Advertising in 2011
Jessica Richards | April 17, 2012 | 1 Comment inShare112 Data capturing, adaptable content, social media, and activation. As a marketing professional, I spend a lot of time learning and educating on digital trends. With the current rate of growth, mobile marketing has been one of the most exciting to monitor.
4 Mobile Marketing Trends to Watch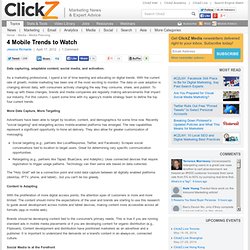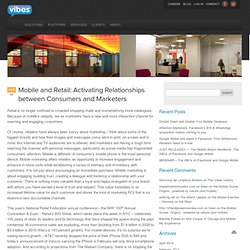 Retail is no longer confined to crowded shopping malls and overwhelming store catalogues. Because of mobile's ubiquity, we as marketers have a new and more interactive channel for reaching and engaging consumers. Of course, retailers have always been savvy about marketing – think about some of the biggest brands and how their images and messages come alive in print, on screen and in mind. But Internet and TV audiences are scattered, and marketers are having a tough time reaching the masses with personal messages, particularly as social media has fragmented consumers' attention.
Mobile and Retail: Activating Relationships between Consumers and Marketers | Mobile Marketing Blog
www.ipedr.com/vol29/22-CEBMM2012-Q00044.pdf
MMA Case Study: Kraft Foods/YOC Sampling Campaign |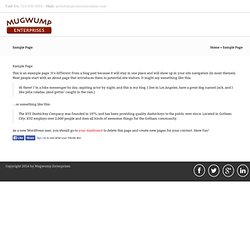 This is an example page. It's different from a blog post because it will stay in one place and will show up in your site navigation (in most themes). Most people start with an About page that introduces them to potential site visitors. It might say something like this: Hi there!
Mobile marketing reaches more customers and builds relationships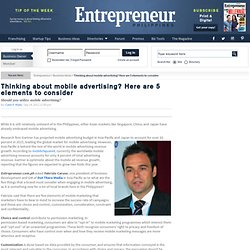 Thinking about mobile advertising? Here are 5 elements to consider | Growyourbusiness | Entrepreneur.com.ph
Should you utilize mobile advertising? By: Carlo P. Mallo | Sep 14, 2011 12:00 pm While it is still relatively unheard of in the Philippines, other Asian markets like Singapore, China, and Japan have already embraced mobile advertising.
By Bob Walczak, CEO of Ringleader Digital It took some time for the online advertising industry to begin to address the multitude of privacy concerns that arose during its early days. The combination of self-regulating bodies, federal legislation, and advancements in technology all worked collectively to help protect us. Emerging media channels, like mobile advertising, are at a level of maturity where online advertising was 10 years ago.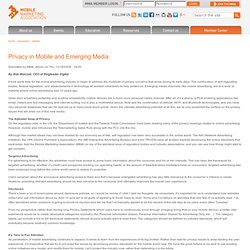 Privacy in Mobile and Emerging Media
Case Study: B2B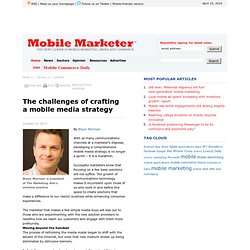 The challenges of crafting a mobile media strategy - Mobile Marketer - Columns
October 19, 2011 Bryon Morrison is president of The Marketing Arm's wireless practice With so many communications channels at a marketer's disposal, developing a comprehensive mobile media strategy is no longer a sprint – it is a marathon.
We already know that mobile marketing can be a ravenous black hole ready to suck up infinite amounts of passion, energy, creativity, work hours, and marketing dollars with no guarantee of any return on investment. For technology marketers, the pain can be even worse, because mobile is essentially a social medium. There's a reason "techies" are also known as Geeks: They live a mysterious existence, concentrating extremely hard on doing one thing—technology—and they are very, very good at what they do. (Just ask them.) We of the non-Geek persuasion bow down to their superior voodoo. But, while Techies are busy glued to their screens, they are not necessarily busy being social.
The Challenges of Mobile Marketing for Technology
We've heard for a year or two now that mobile marketing is next. Friends, mobile marketing is now. And brands are struggling to get their heads wrapped around it. From QR codes to Near Field Communications to SMS to location-based services, there's an almost unlimited world of possibility out there for brands to go mobile, but little understanding from brands as to how. That's precisely why Tim Hayden of 44 Doors will be speaking at Explore Dallas-Fort Worth on Feb. 17 and why I also caught up with him recently to share some insights with all of you on the world of mobile marketing, engagement and how social media plays into it all. You won't want to miss the business insights Tim has to give at Explore Dallas-Fort Worth.
Mobile Marketing: The Challenges, Opportunities And Future
57% of businesses and 67% of agencies that took part in Econsultancy's Marketing Budgets report for 2012 said that investing in mobile applications was their top priority for the next year. QR codes were the second highest answer for both groups, with mobile commerce and mobile advertising falling shortly behind. The full report, published in association with Experian Marketing Services, showed increasing levels of investment across a range of digital channels and disciplines. Based on discussions with 500 companies and agencies, more than two-thirds (68%) are increasing their digital budgets for 2012, compared to 45% of companies increasing overall marketing budgets but only 16% saying the same for 'traditional' marketing budgets.
Budgets study shows mobile apps, QR codes and ads are top priority
Google has released data from Sunday evening which reveals that 41% of searches relating to Super Bowl ads made during the game came from mobile devices. A post on the company's blog states that this is up from 25% for the same time period on the day before. However, none of the ads made it into the list of the top five trending searches:
41% of Super Bowl ad searches during game made via mobile: infographic
Using mobile marketing to reach a global audience
Around 87% of the world's population now has a mobile phone, with China and India leading growth. Mobile marketing is one of the easiest ways to tap into growing, emerging markets and reach a much larger audience. However, global companies have been slow to catch on to this trend.
Mobile: more than just a hot topic
Adobe aims to make mobile web development easier with Shadow
Nielsen finds 33% of US mobile users deem location-based ads useful
Mobile Marketing Growth and Statistics | Moto Message