design resources
Get flash to fully experience Pearltrees
History of Postal Stamps in Libya: By the nature of the profession the early Libyan post offices were built near foreign consulates and companies at the major seaports, where people are most likely to use the service. These offices continued to operate until the Italians established their first post office to guarantee contact between the various colonies.
The 2011 Libyan protests began as a series of protests and confrontations occurring in the North African state of Libya against the Government of Libya and its de facto leader Muammar al-Gaddafi. The unrest began on 15 February 2011 and continues to the present. Protests have centered on Libya's two largest cities, the capital of Tripoli in the west, and Benghazi in the east and tends to spread to other cities.
Microsoft Windows users Click Start, Settings, Control Panel. Open the Fonts icon by double clicking the icon. Within the Fonts window you will be able to view each of the currently installed fonts as well as install new fonts. To install a font, click the File menu and select Install New Font.
Adobe's new tool Edge enables you to design animated web content using standards such as HTML5, CSS3 and JavaScript. It's not just about simple transitions, it's about filling standards-based animations with detail and personality like never before. It's about a UI that's familiar and comfortable for designers and animators. And it's about new features that actually advance the usability and flexibility of a timeline-based environment.
Though there's a broad variety of fonts available for download online, designers keep on tracing the fresh ones to enhance their design copy, a website, brochure, or even an advertisement in a brand new an' awesome way. Still, the free stuff could not always boast of good quality – premium goodies always demand some kind of money investment. However, now it's possible to find the appropriate font that's free, clear, beautiful, and effective for design purposes. Many great designers are now offering professional quality fonts completely for free. Today's round-up actually goes outside the standard font variety. We've managed to gather a collection of 50 novelty styled free fonts which you can instantly download and use to add a powerful impact for your designs.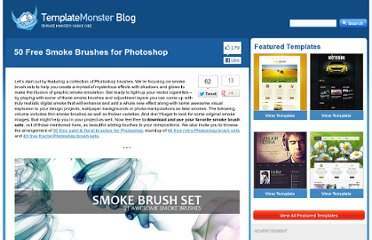 Let's start out by featuring a collection of Photoshop brushes. We're focusing on smoke brush sets to help you create a myriad of mysterious effects with shadows and glows to make the illusion of graphic smoke emulation. Get ready to light up your vector cigarettes – by playing with some of these smoke brushes and adjustment layers you can come up with truly realistic digital smoke that will enhance and add a whole new effect along with some awesome visual explosion to your design projects, wallpaper backgrounds or photo manipulations as fake smokes.